Bunscoil McAuley Rice Fittest Family
Click to see our Fit Families in action!!
CORCORANS TAKE THE TITLE!!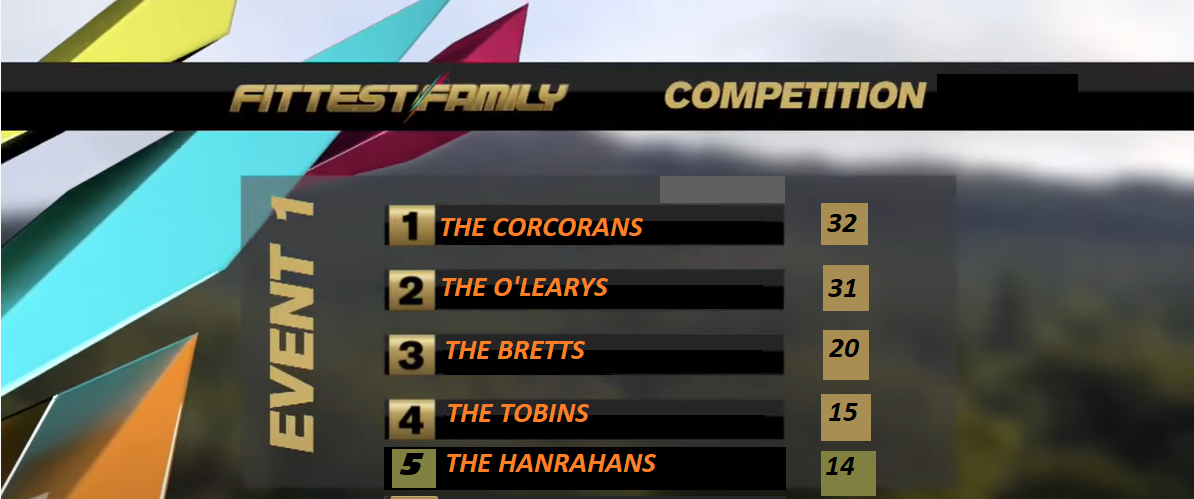 The Corcoran family, led by Seán and Liam, eventually climbed to the top of the leaderboard after a titanic battle in the final week. The Corcorans were pushed all the way by the rest of the families, especially Conor O'Leary and his family. There was only 1 point separating 1st and 2nd which shows just how competitive the competition has been over the past 5 weeks. The final week proved to be very tough, with 3 different families topping the leaderboard in the different challenges (tables can be seen below). The families in the top 5 put in some huge scores in the 4 challenges this week and I'm sure Mr Ryan and Mr McGrath would be afraid to take on any of them in a challenge.
Congratulations to the Corcoran family who will receive their well deserved prize hamper when they return to school as Bunscoil McCauley Rice's Fittest Family.
To all the rest of the families who took part, you will all be put into a draw for the remaining hamper and this draw will take place when we return to school.
We want to give a huge thanks and say a massive well done to all the families that took part in the various exercises and challenges over the past number of weeks. It has been great to see so many families out and about, keeping active and having fun. Thanks very much also to Mr. Browne for all of his exercise videos and to Mr Fogarty for his help on the website.
Our Fittest Family has now come to an end and I think it is safe to say that everyone deserves a well earned break this week. Except for Mr Ryan and Mr McGrath who will have to battle it out in front of the whole school when we return. I wonder who will you be shouting for?
Final Week Challenges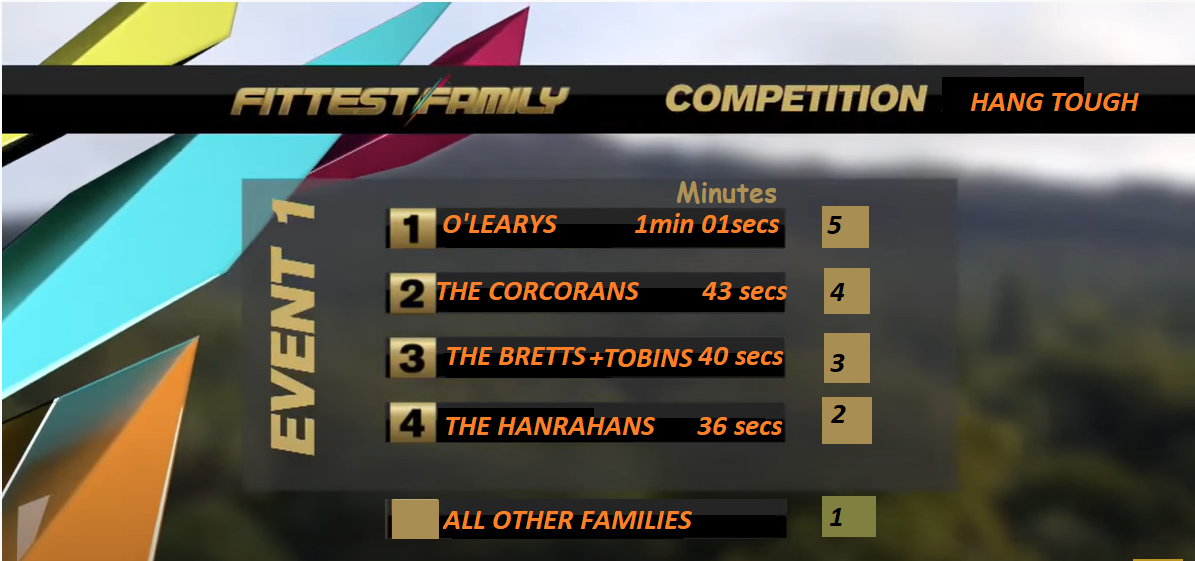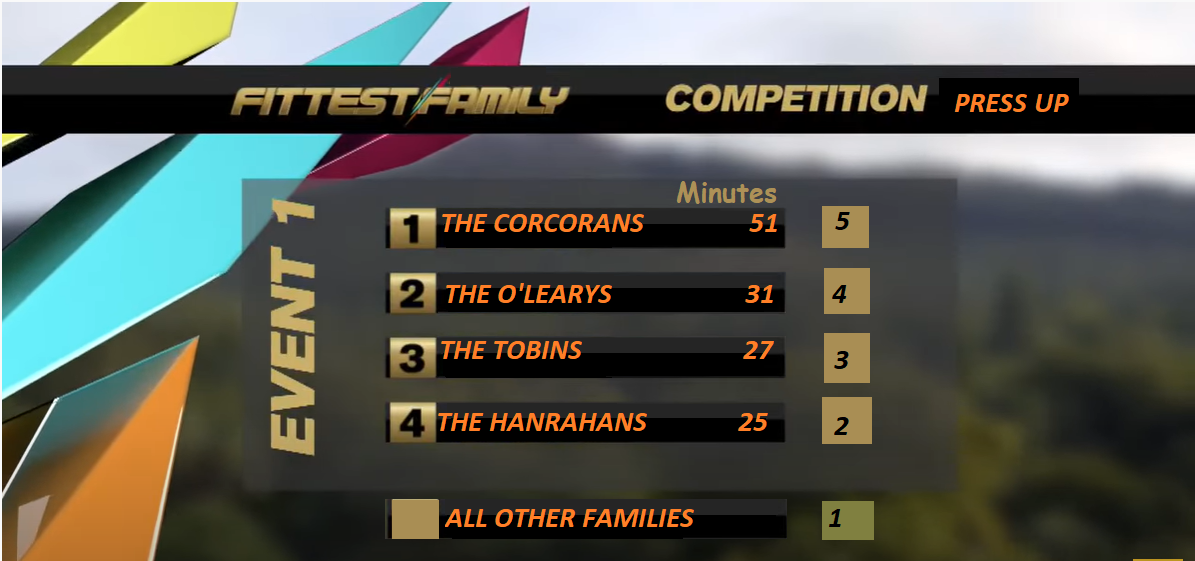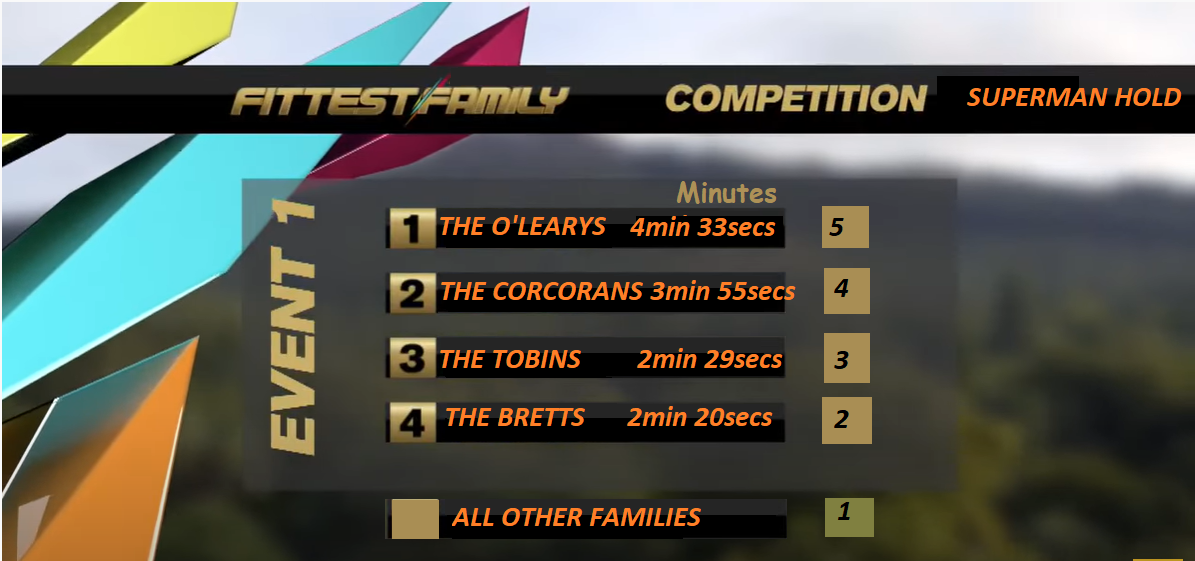 MR MCGRATH BOTTLES IT!!
Mr McGrath came into this final challenge thinking all he had to do was turn up. I suppose this was understandable considering Mr Ryan's performances in the previous two challenges but it proved to be a terrible mistake on his behalf. Mr Ryan on the other hand was completely focused and you could see it in his eyes that he was never going to be beaten. Ryan stepped up first. He was pumped. He looked up at the bar, then turned and faced Mr McGrath and said "Boo the Village". After receiving some help from a nearby step ladder, Mr Ryan eventually reached the bar. Once he did, he grabbed on and held on as if his life depended on it. He lasted 4 seconds. It was an incredible anticlimax but absolutely hilarious at the same time. Mr McGrath rolled around the ground laughing and you could tell by his body language that he felt victory was in the bag. McGrath reached up to the bar as Mr Ryan looked away in disgust. Just as the timer was about to be pressed, a bang could be heard and everyone looked up. Mr McGrath was lying on his back, deflated. For the first time in this competition, a competitor recorded a time of zero. He had fallen off the bar before the timer could be pressed, incredible. Mr Ryan was ecstatic as he ran around the arena jumping and cheering. He lived to fight another day. It is only fitting that these two equally unfit challengers finished level at the end of a bruising week. It is not over for them yet however. They will both have to battle it out in an epic 1v1, winner takes all obstacle course. This event will take place on the school grounds when Mr McGrath returns to school very soon.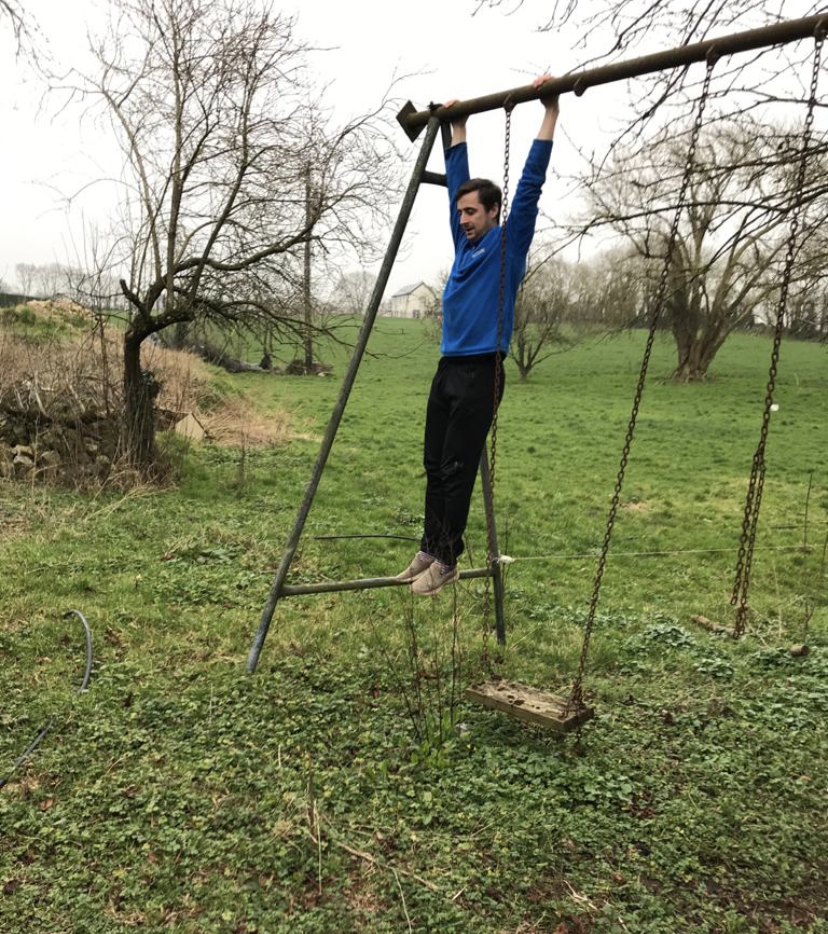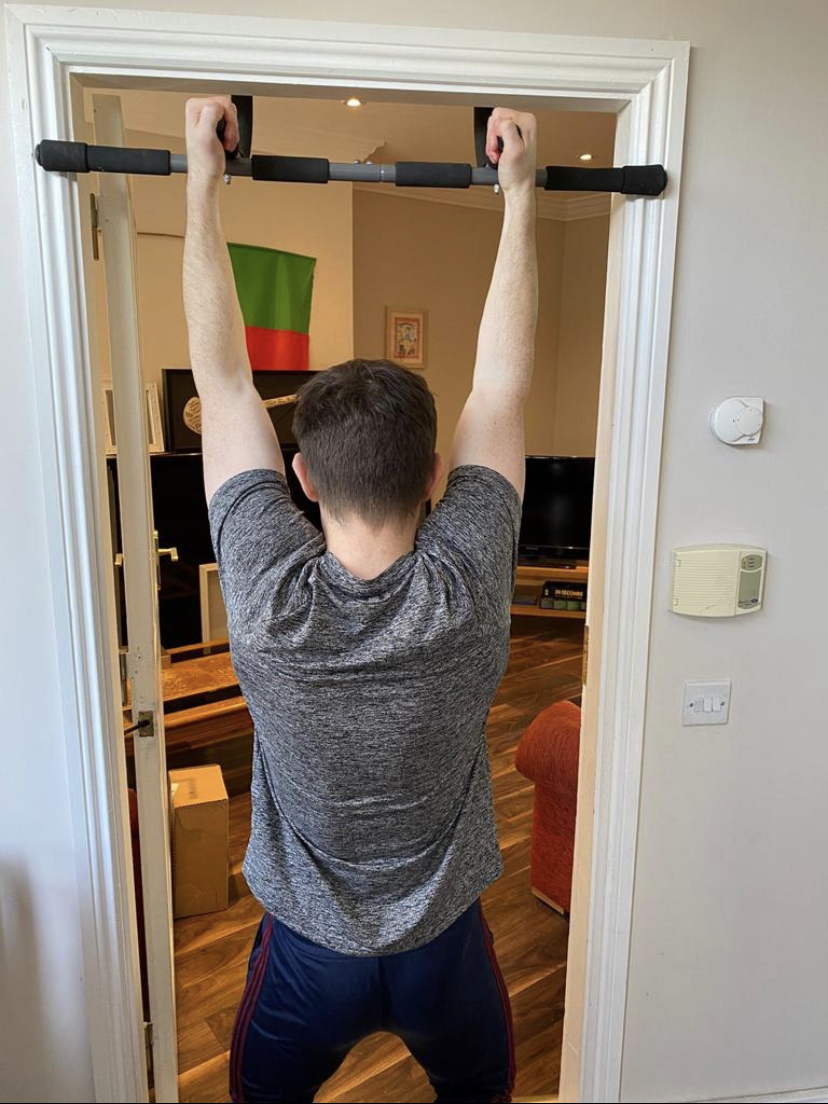 MR MCGRATH ON THE BRINK OF VICTORY!!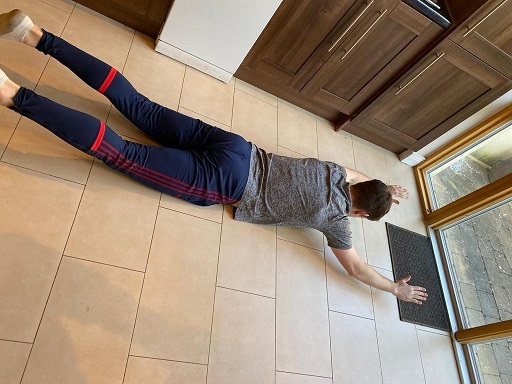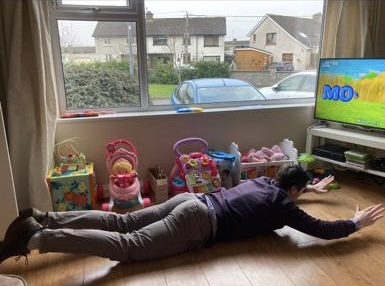 Mr McGrath has one hand on the trophy after today's victory and it looks like he might just get to keep his job next year. It was another disappointing day for Mr Ryan and it is hard to find any words for encouragement for him after another abysmal performance. The only thing we can praise him for is for taking time out of his busy schedule to take part in today's challenge. It takes a lot of time an effort to play with those toys (pictured above) and watch cartoons so thanks Mr Ryan for giving us 20 seconds of your day. We say 20 seconds because that is all he could last for in the superman hold. Mr McGrath, who lasted 22 seconds, was delighted with his victory. James Stephens and Clara are obviously not back doing any training yet judging by the fitness levels of these two players. We have decided to give the challengers a rest before the Hang Tough on Friday. It is not looking good for Mr Ryan but at least he will have plenty of time for toys and cartoons next year.
MR MCGRATH FIGHTS BACK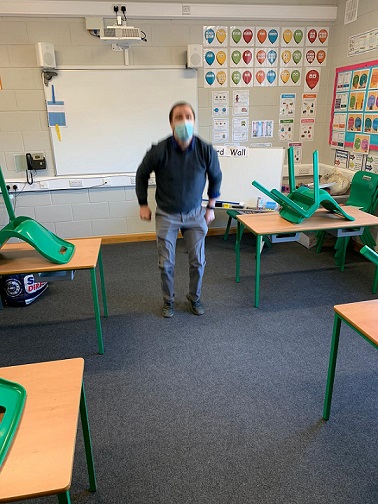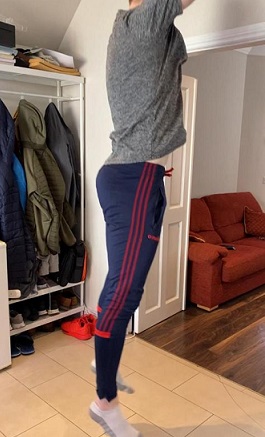 Mr Mcgrath bounced back today with a very convincing victory in the Burpee Challenge. The pressure was on him after yesterday's loss but he put in a very impressive performance this morning. Now do not be fooled, the standard was atrocious again but by Mr McGrath and Mr Ryan's low standards, it was impressive. Mr Ryan let yesterday's victory go to his head, so much in fact that he had to do his challenge in the only room he could get his head into, his classroom. Like yesterday, both men had to see how many burpees they could complete in 60 secs. Mr McGrath completed 19 while Mr Ryan could only complete 11. Mr Ryan was very unhappy with the result and believes that the reason you can't see Mr McGrath's head in the picture is because it is not actually Mr McGrath. The sitution is currently under review. I wonder will any of the students be able to beat our teachers scores?
Mr Ryan off to a flyer!!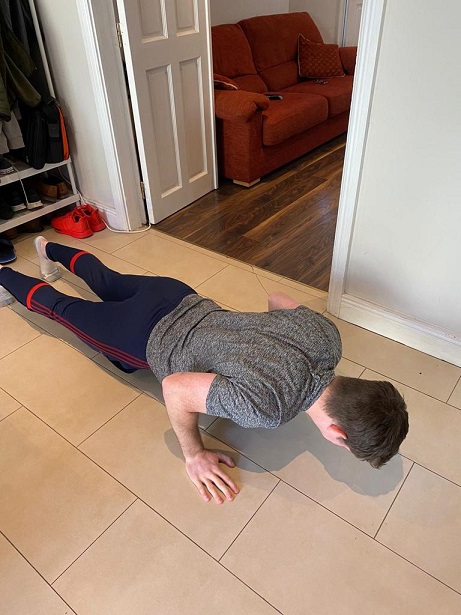 Mr Ryan and Mr McGrath took each other on in the push up challenge with Mr Ryan emerging after a titanic battle. The standard was of a very low standard as expected, but the lack of quality actually contributed to the entertainment of the match. Mr Ryan managed 7 in 60 seconds while Mr Mcgrath struggled to a score of 6 push ups. It was neck and neck up until the half way mark with both men on 6 push ups. This proved to be the turning point of the tie as Mr Ryan pushed his body to the limit and barely squeezed in another push up in the remaining 30 seconds. Mr Mcgrath failed to complete one push up in the remaining 30 seconds which was hilarious for those watching. Tune in tomorrow for round 2 of the clash where both men will take on the burpee challenge!!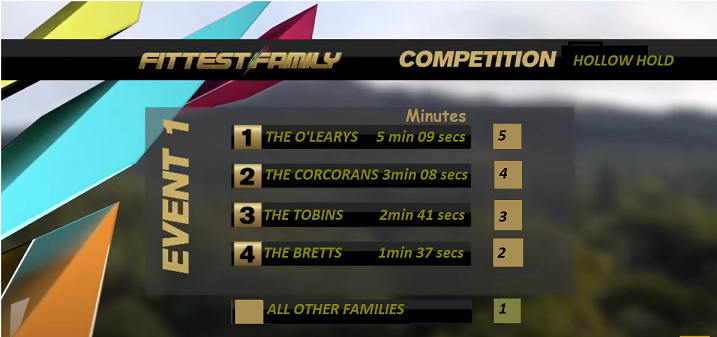 For the first time in the competition, a family has retained top position for two weeks in a row. The O'Learys have been in top form in recent weeks and leave themselves in a great position coming into the final week. The O'Learys and Corcorans are tied at the top after 4 weeks with the Bretts only two points behind. However, the final week has the potential to throw up many twists and turns with all families still in with a chance to win.
As we are entering the final week, the competition is going to take on a slightly different format and move away from the weekly exercises and weekly challenge. This week, each family will take part in 4 challenges - The Press Up Challenge, The Burpee Challenge, The Superman Challenge and The Hang Tough Challenge. Like the weekly challenges we have done before, the winner of each challenge will receive 5 points, 2nd place will receive 4 points and so on. This week gives families the chance to earn more points than ever and put them in a position to win the prize hamper. Keep an eye on the website to see Mr Browne's video where he will explain the challenges and give a few tips on how to get the best score.
JOBS ON THE LINE!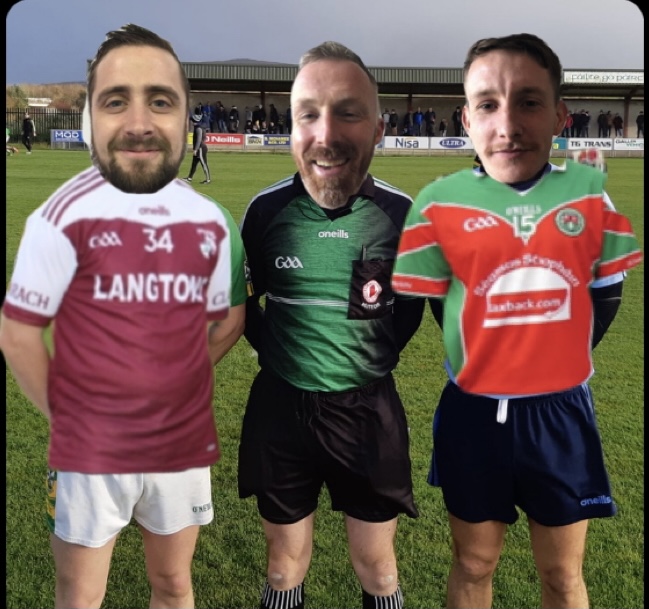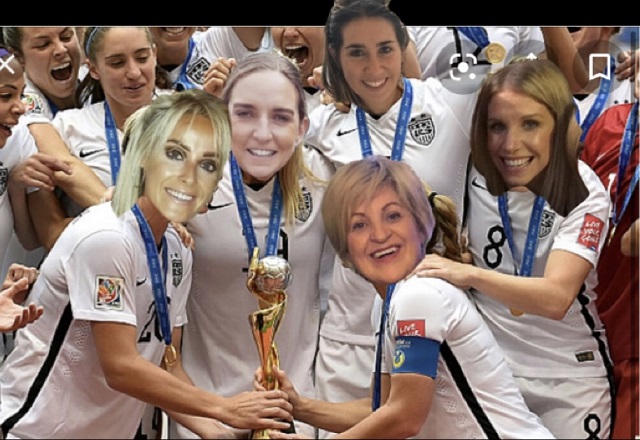 With only one week remaining, Mr Moloney has decided to concede defeat on behalf of the male teachers. The ladies' over whelming victory ensures bragging rights and pride will be on their side this year. Mr Moloney was so disappointed with Mr McGrath and Mr Ryan that he has decided to put their jobs on the line. The extremely unfit pair will have to battle it out over the next 4 days to see who gets to keep their job in September. The two will take part in this week's challenges and have to take on one challenge a day for the four days. Keep an eye on the school website to see how they get on. When asked which teacher he would prefer to see keep his job next year, Mr Moloney replied: "I would love to get rid of them both to be honest."
Click Here to download your copy of BMR Fittest Family
Final Week Challenges
Thanks to Mr Brown for the final week's challenges:
With Mr Kelly and Mr Butler afraid of this week's challenge, Ms Murphy and Ms O'Shea decided to go head to head in the hollow hold. Being from Ballycallan, Ms O'Shea had very little support and everyone was delighted to see Ms Murphy get the win this week. It was a close fought battle however with Ms O Shea holding on for a very impressive time of 1 min 50 secs. Ms Murphy just edged her out with a time of 1 min 53 secs. Ms O Shea felt she only had herself to blame after the loss and believed she would have won if she wore her Tullaroan jersey.
Thanks very much to Aaron Gillane from AG Sports and Damian Cleere from Cleere Sports who kindly sponsored some gear and equipment for our hampers. Thanks also to Star Hurls who have sponsored a hurl, sliotar and grip voucher for each hamper, it is much appreciated!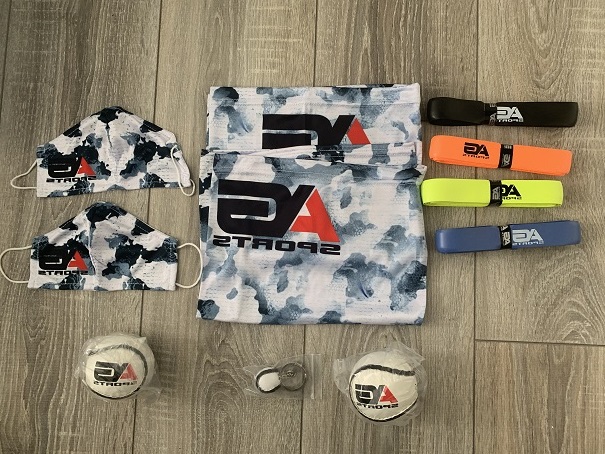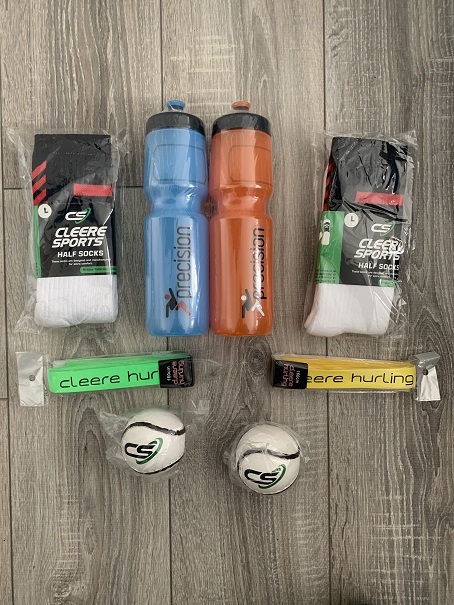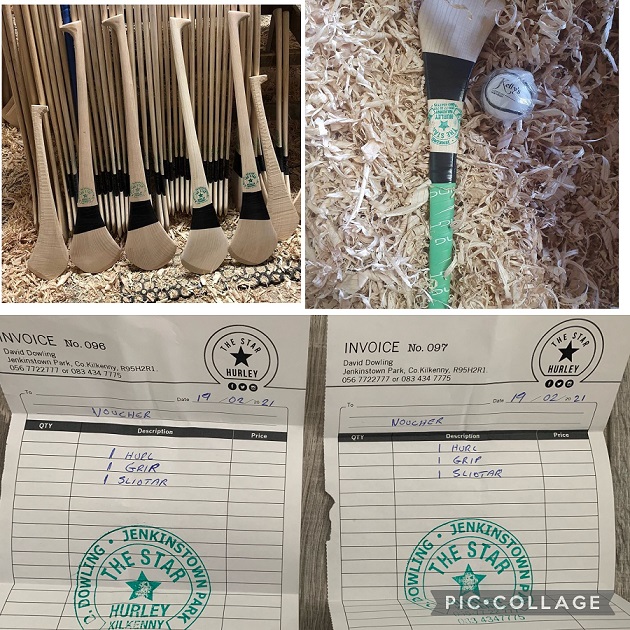 Below are the rest of the prizes that will feature in our hampers. Both hampers will contain all items in the picture:
Men's camp in turmoil!!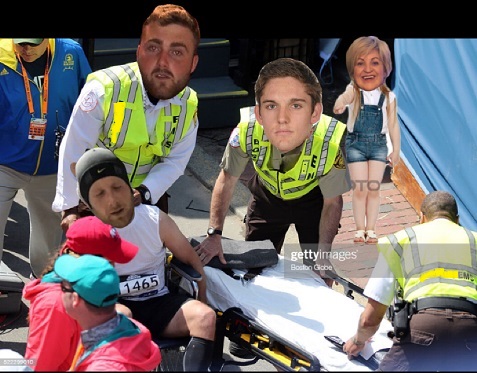 Mr Fogarty required a stretcher to carry him away after last week's defeat to Ms O'Sullivan. He was shattered, but in fairness, his poor old legs did manage to last for about 20 seconds. Ms O'Sullivan got great enjoyment from her colleagues suffering and laughed away to herself as he was pulled onto the stretcher. As can be seen in the picture above, Mr Butler and Mr Kelly were horrified when they saw how Mr Fogarty's body reacted to last week's challenge. The two city slickers have decided that they want no part in any of the remaining challenges. Mr Moloney decided to pull the male staff from this week's challenges to give them time to try and convince Mr Butler and Mr Kelly to come back. It isn't looking very promising however as the two have been in hiding since last week and are unlikely to resurface until the challenges are finished.
Tension in the Staffroom!!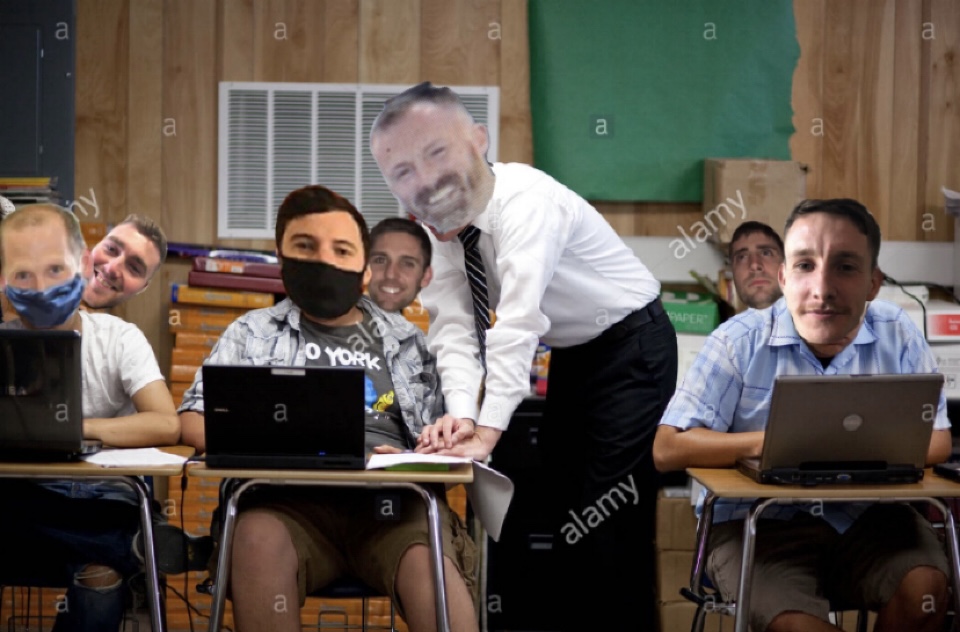 It has recently come to our attention that Mr Moloney organised a secret meeting with some teachers (pictured above) prior to lockdown. This meeting was arranged to plan out how they were going to beat the female members of staff in the Fittest Family challenges. This has come to light after three humiliating defeats in the first three weeks of challenges. Mr McGrath and Mr Ryan have since come out and blamed Mr Moloney's lack of leadership for the awful performances. "All we did was sit in a room and play Fortnite for the day while Mr O' Dwyer tried to sell us golf clubs" claimed Mr Ryan. Mr Moloney was unhappy with Mr Ryan's comments and felt that Mr Ryan should have performed better sitting up against the wall because "that is all he does every day."
Ms O'Sullivan and Mr Fogarty took on the balancing challenge this week. It is a lot harder than it looks and once again, the ladies came out on top with a win for Ms O'Sullivan. She got a very impressive time of 1 minute and 4 seconds. Mr Fogarty, a well-known wellie race runner, managed to last 20 seconds which is a slight improvement on previous scores from the men. A 6th class student who wishes to remain anonymous, described Mr Fogarty's performance as "disappointing but not surprising, he hasn't been himself since the Christmas Plays were cancelled."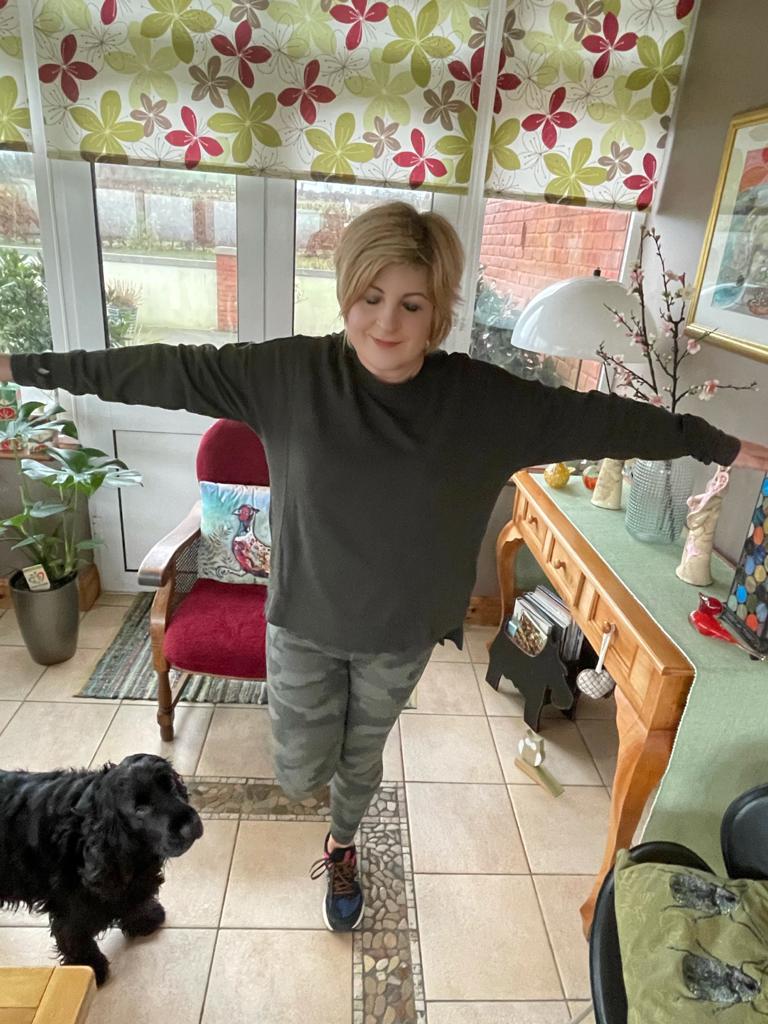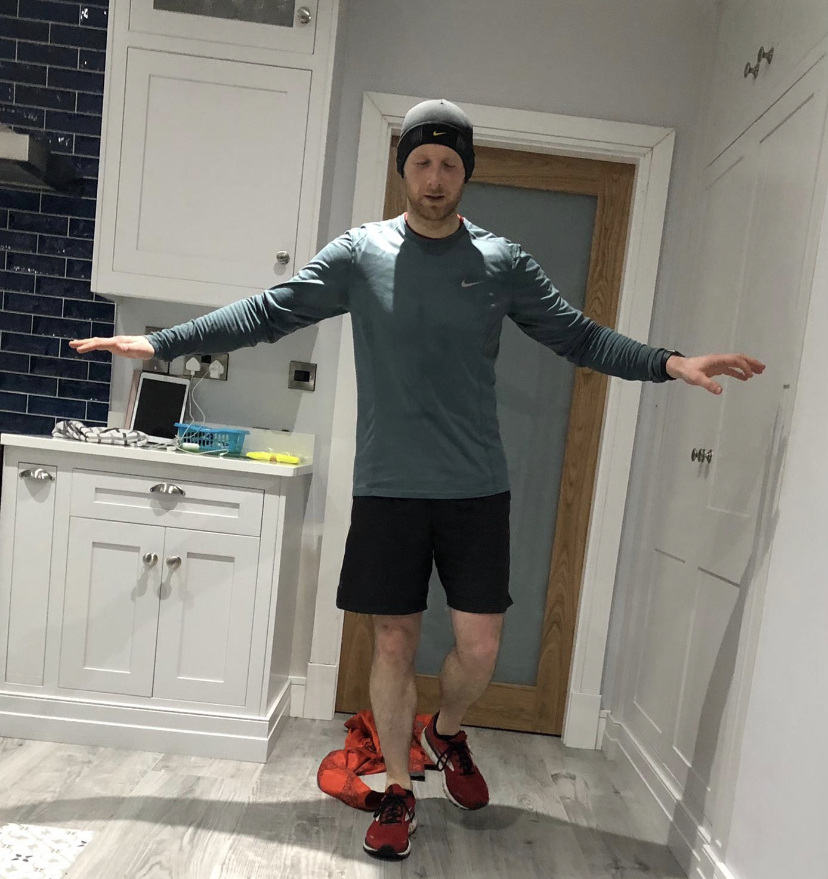 Bunscoil McAuley Rice Fittest Family Week 2
A huge thanks to everyone who has taken part so far. It was great to see everyone keeping so active this week. Check out Week 1 – Fit Families in Action to see all of the pictures from last week.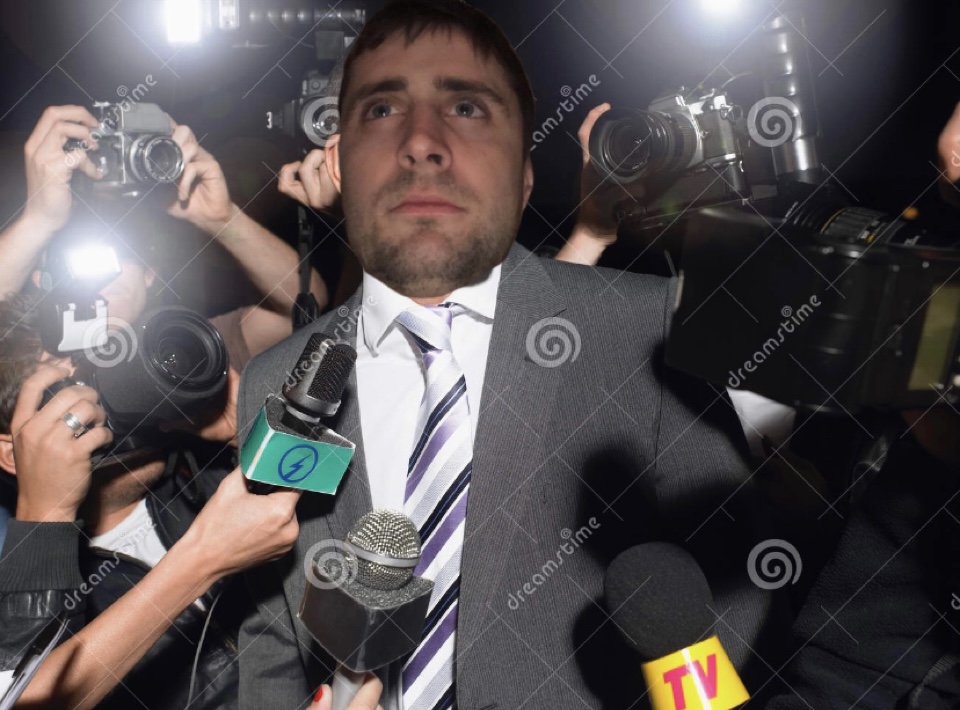 A special mention has to go to the Corcoran twins Liam and Seán and Aine Brett who put in incredible performances in the Wall Sit challenge. Liam and Seán lasted 1 hour and 15 minutes each while Aine managed a time of 1 hour and 3 seconds!! It is also important to note that Aine managed to last 59 minutes and 44 seconds longer than Mr Ryan while the Corcoran's lasted over 1 hour and 14 seconds longer!! Mr. Ryan has refused to comment or answer any questions on his below par performance when quizzed by journalists.
Over the next couple of weeks, we are encouraging each family to get active each week and take part in various activities and challenges from your homes. Everyone can take part and it can be changed or tweaked to fit you and your family. It is all about taking part and encouraging everybody to keep active and stay in touch with their friends in these challenging times.
Each week you will be given a set of exercises to be completed and you can show completion of these exercises through the weekly checklist forms or through photos.
The goal each week is to complete 2021 exercise reps across your family. (For example, one might do the lunges, while another family member might do the jumping jacks for the week or everybody can try to do it together). It is up to each family how they decide to do it.

Each week you will also be given an opportunity to try and prove you are the Fittest Family. There will be an optional weekly challenge where you will have the chance to compete against teachers and other families.

The family with the best performance/time will receive 5 points, the next best performing family will receive 4 and finally the third best performing family will receive 3. All other competing families will receive 1 point for taking part.

At the end of our Fit Families, there will be a draw between all of the families who have taken part as well as an overall Bunscoil McAuley Rice Fittest Family prize based on the performances in the optional weekly challenges and the points gained in those challenges.

All photos and checklists can be sent to

This email address is being protected from spambots. You need JavaScript enabled to view it.

to enter.

Keep an eye on the school website for videos, photos and exercises each week.