Physical Education
This year, we are putting an extra effort into doing more Outdoor and Adventure activities. For 5 weeks after the Easter holidays, every class in the school will be participating in activities for the Outdoor and Adventure strand. Each class in the school has been given an outdoor and adventure pack, we can't wait to get started!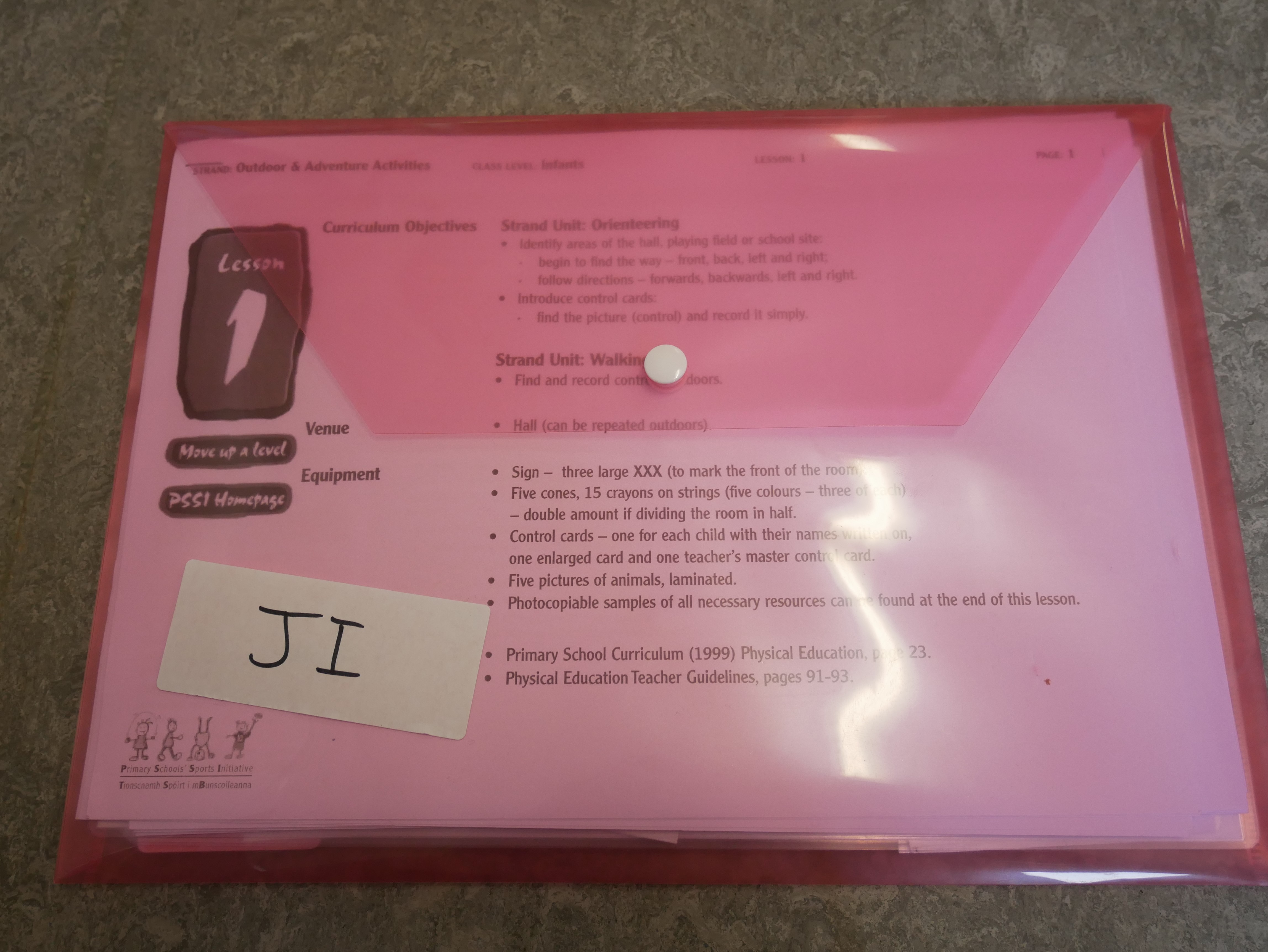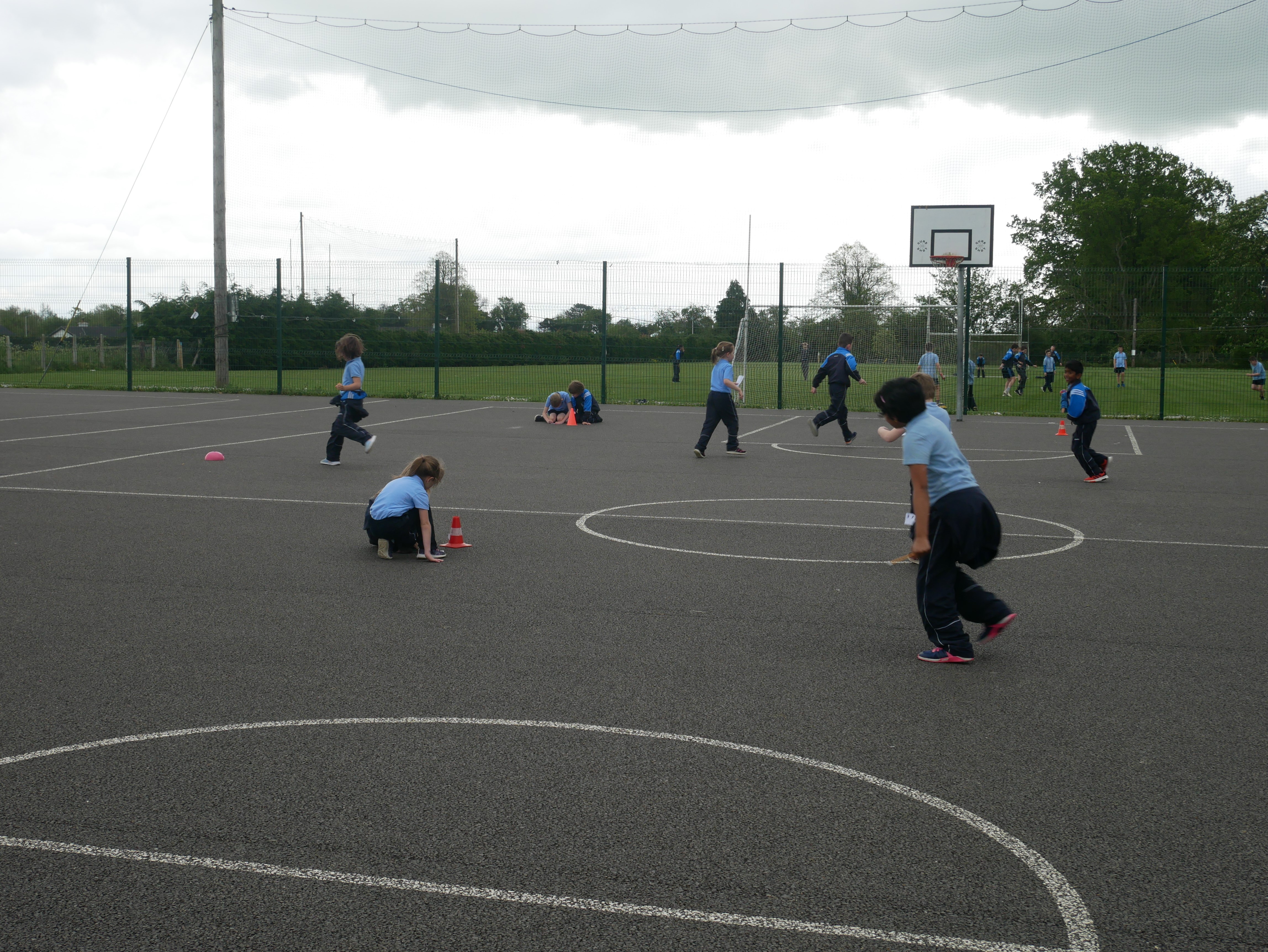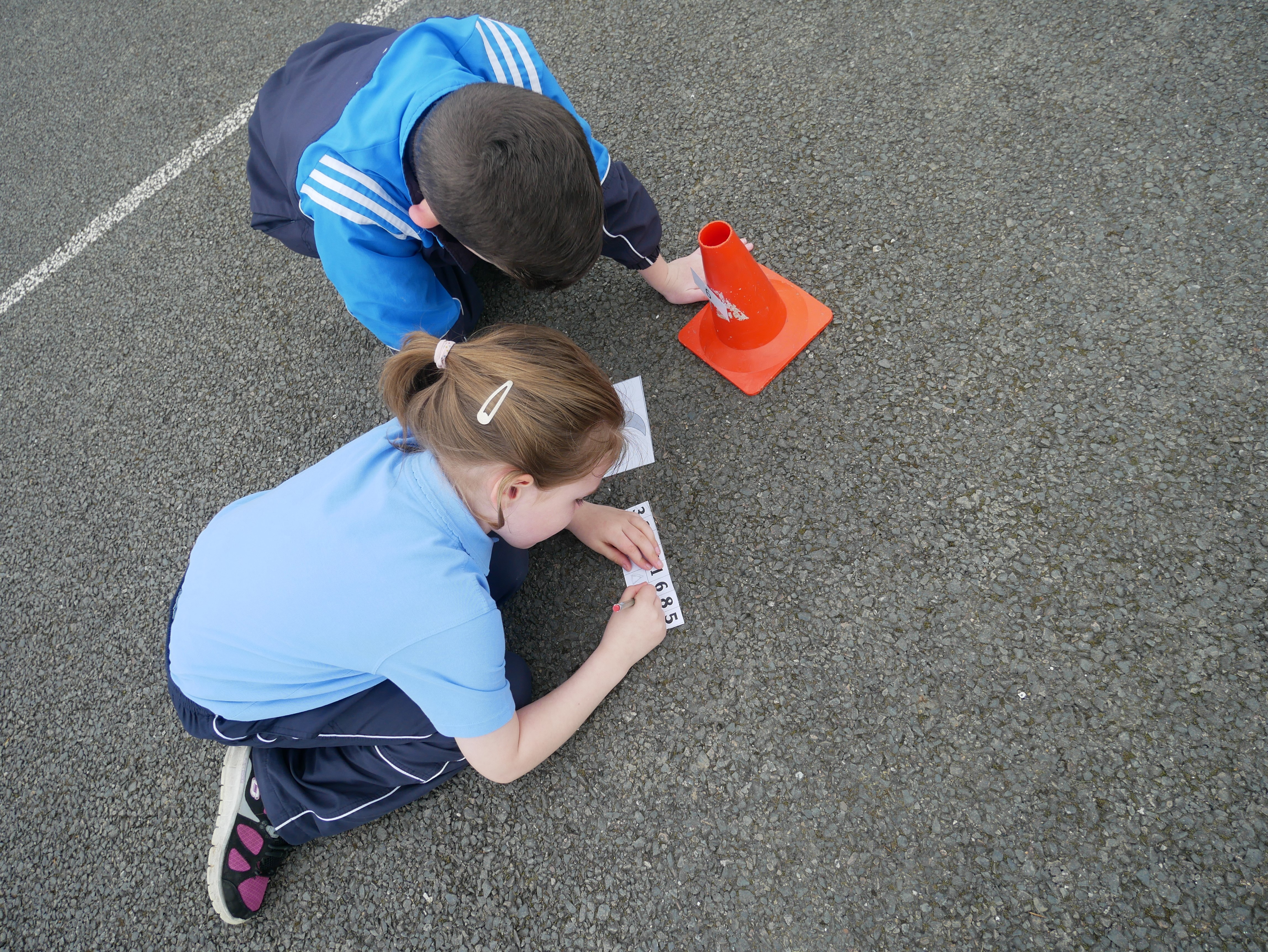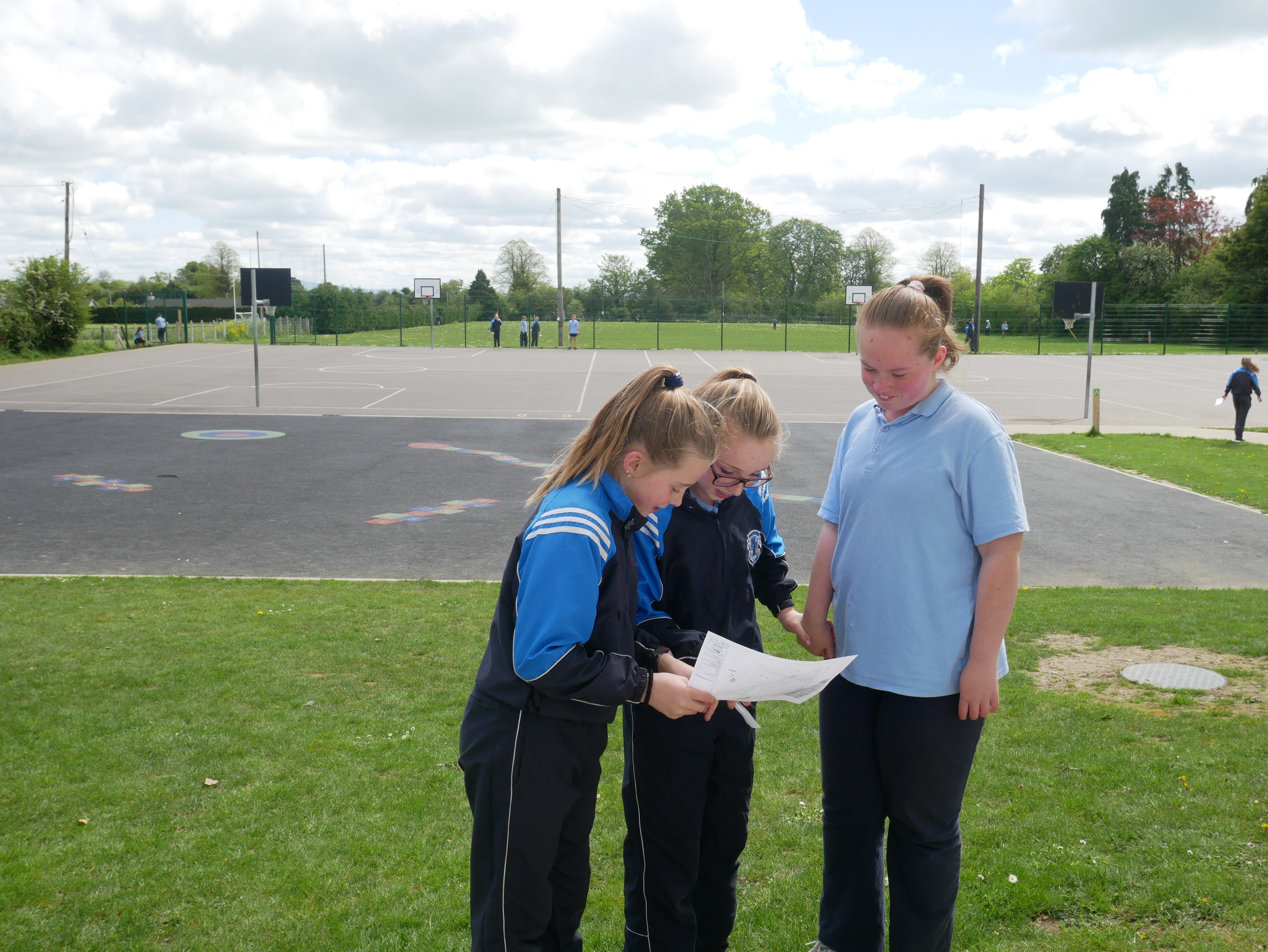 *************************
 Our teachers are always learning too, they have attended lots of courses to make sure we receive the best PE lessons!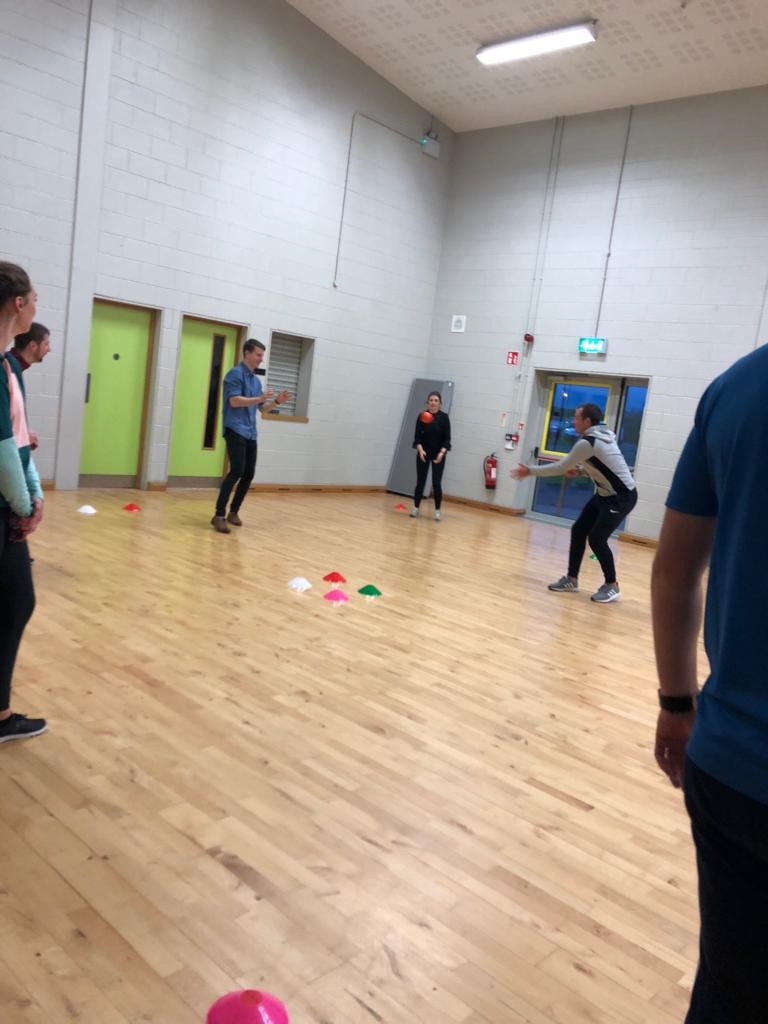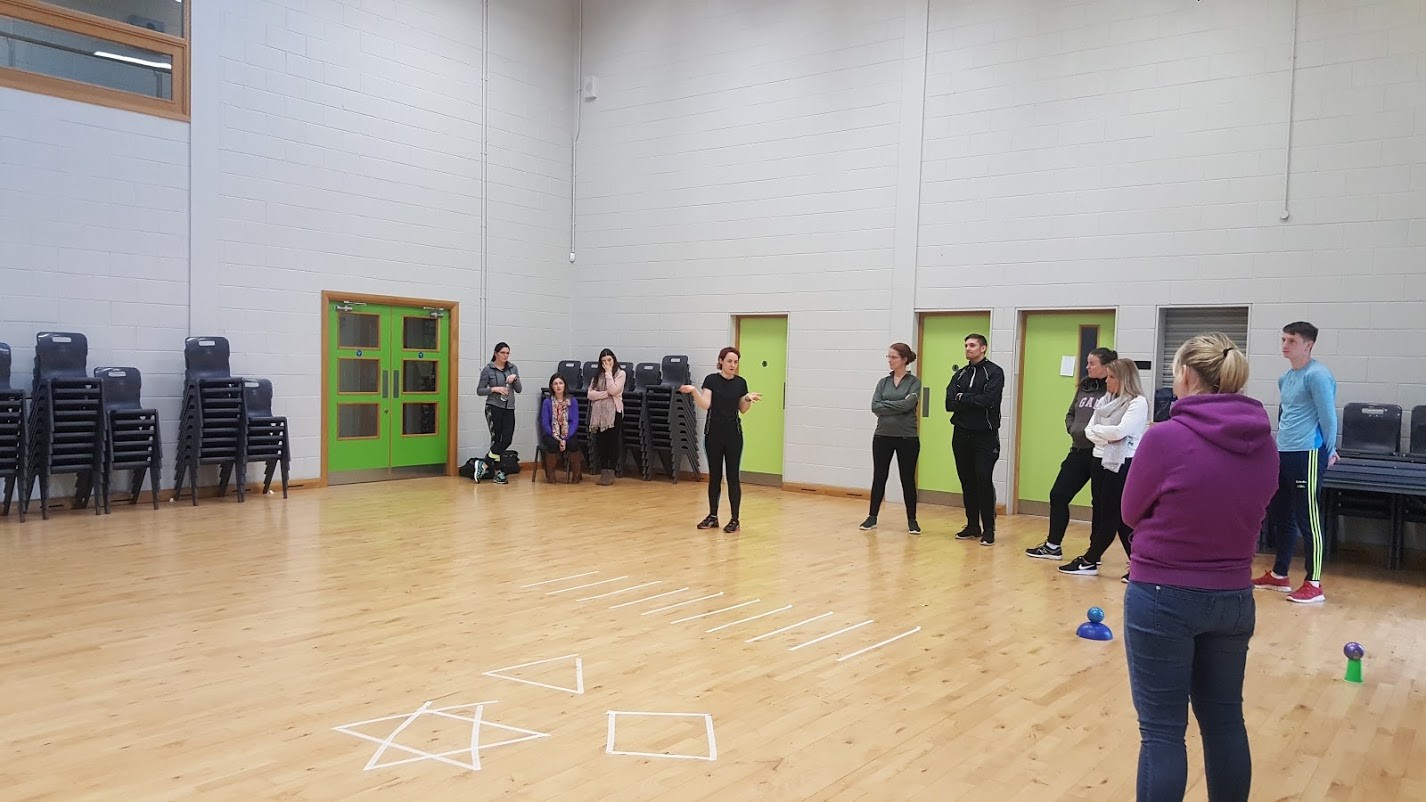 *************************
All the teachers in our school make sure that we get active homework on the days we have PE. Mrs Grace's class are making sure to do their active homework each week.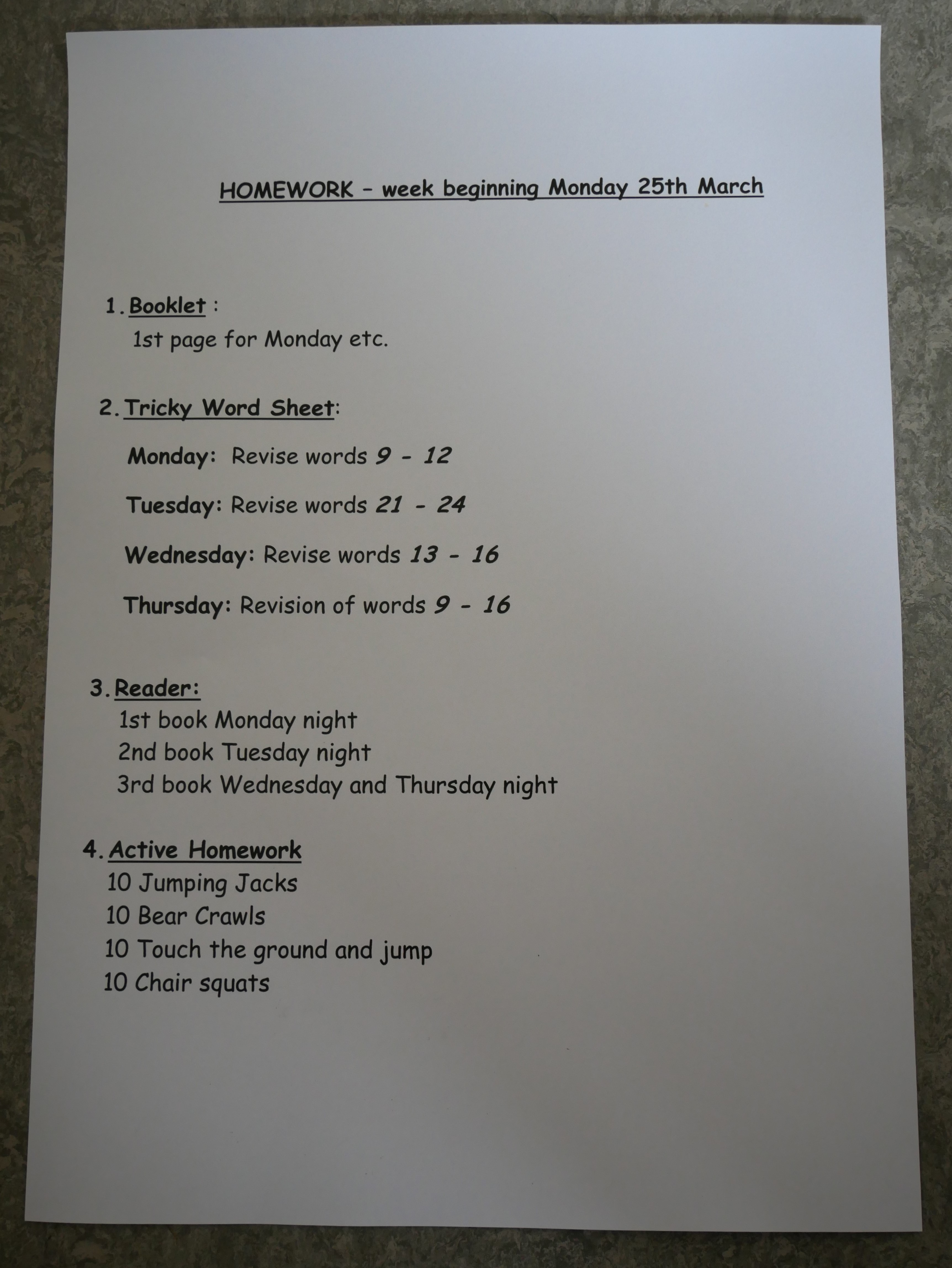 *************************
Junior Infants, 1st Class, 3rd Class and 5th Class have completed the Land PAWS water safety programme. They are very proud of their achievement and they now know how to keep themselves safe around water.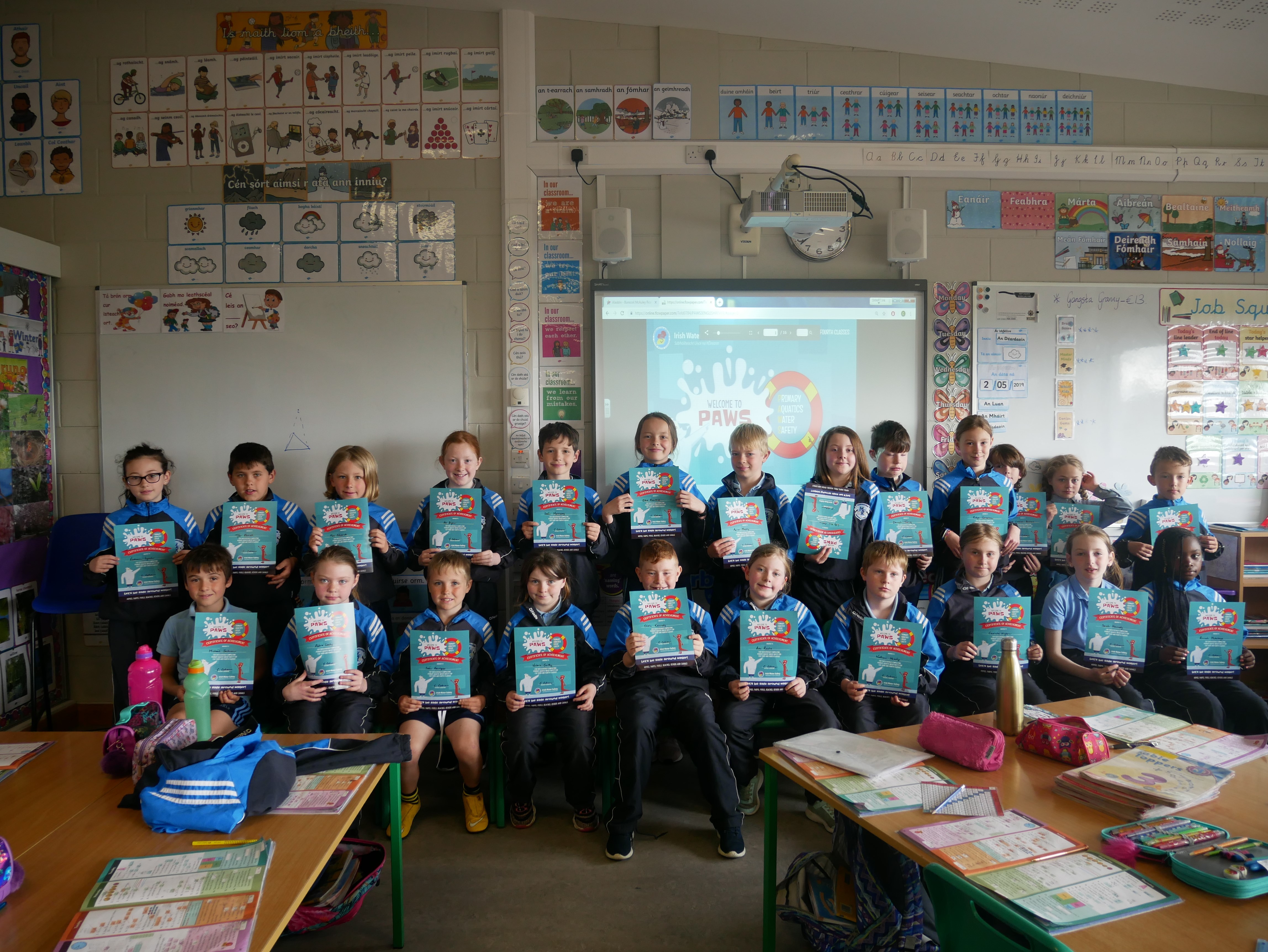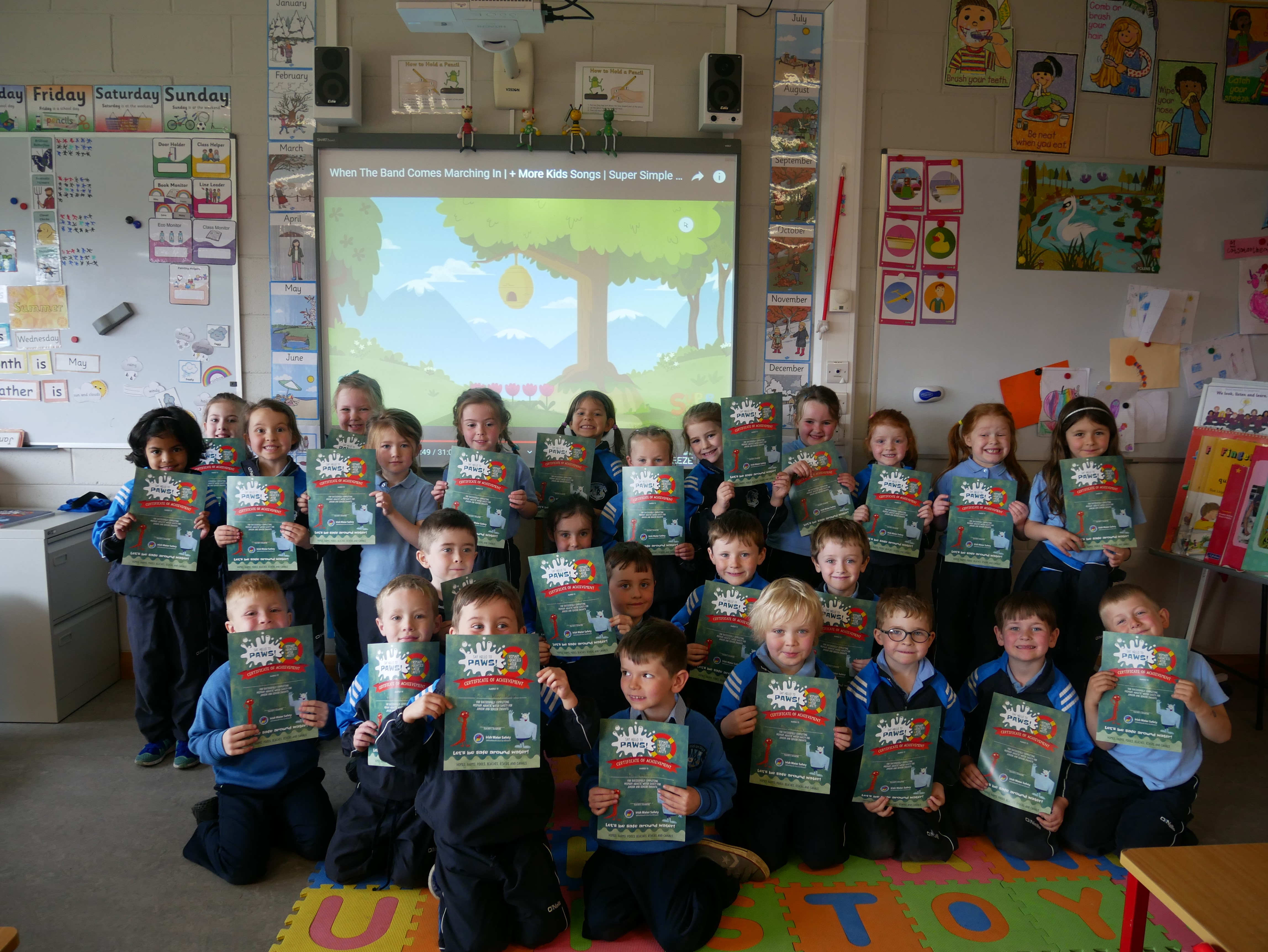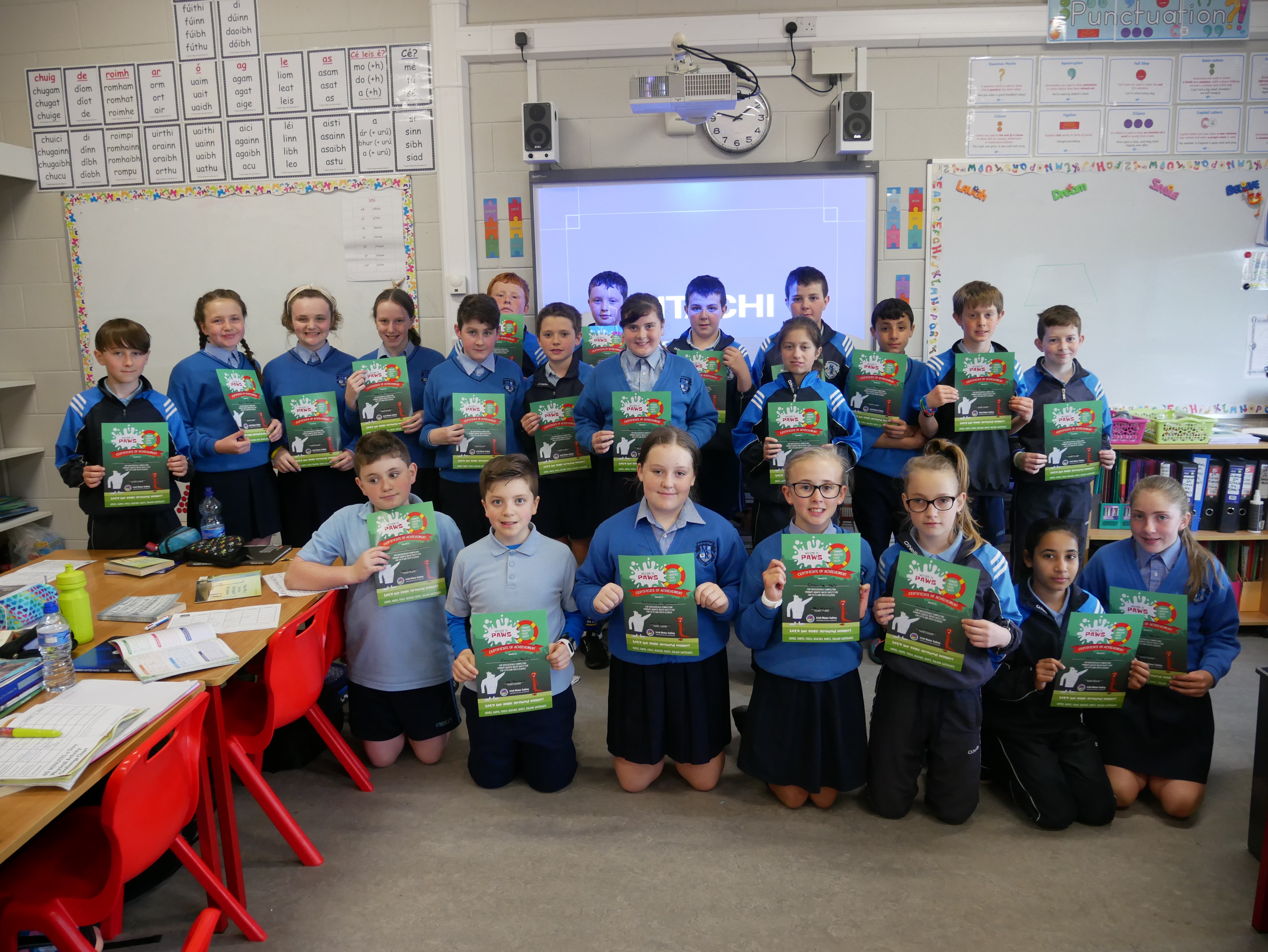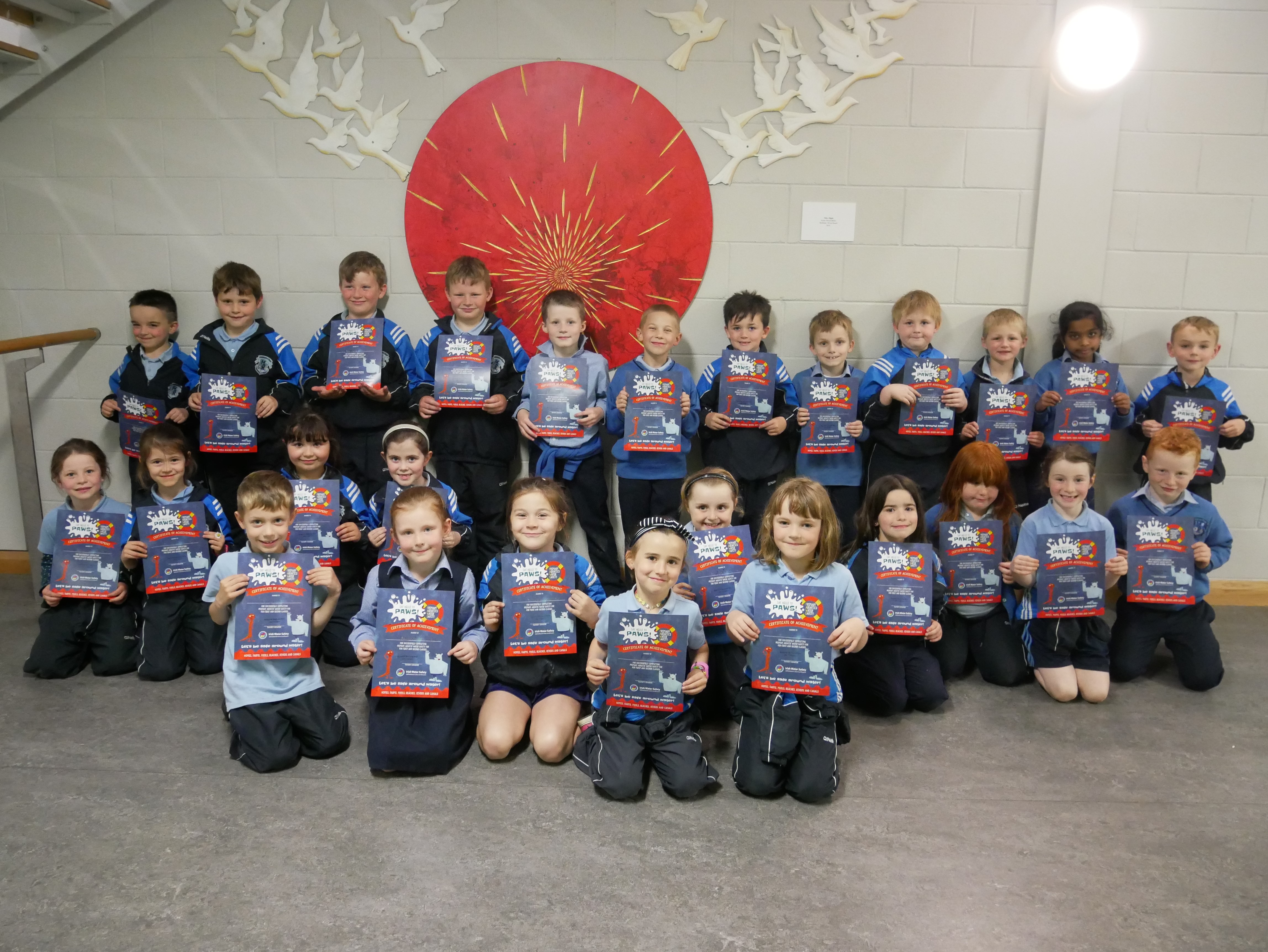 *************************
Physical Activity
Our children on the infant yard love to play hopscotch and run along the different yard makings on the yard. Our playground leaders make great use of them when they play games with the infant classes every Tuesday and Friday at big lunch. The playground leaders also use hoola-hoops, bean bags and balls to play different games.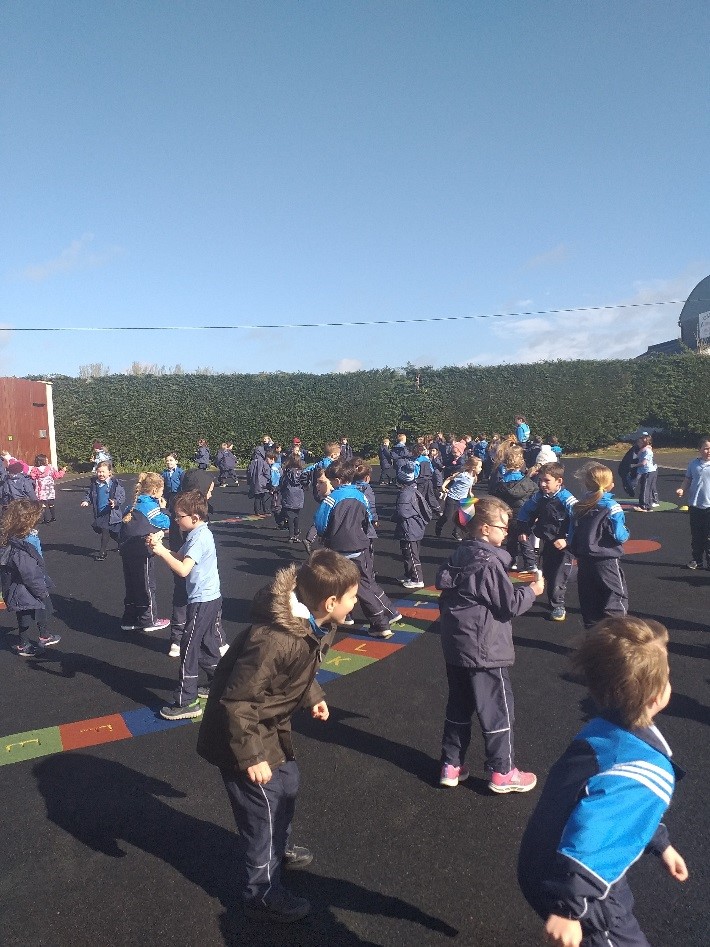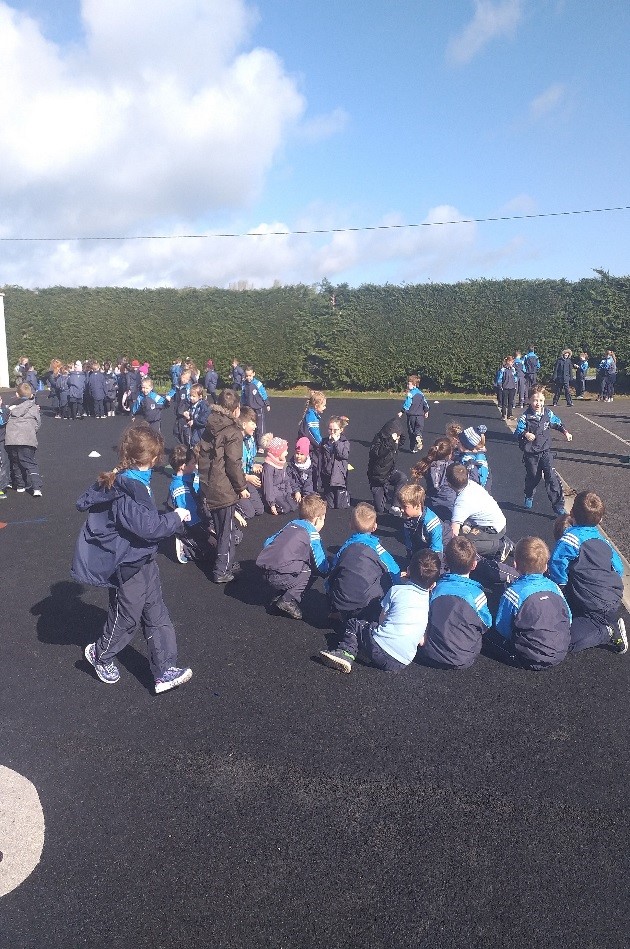 *************************
Our yards are zoned into different sections so all the children of our school can keep active during their lunch break. We have a saying in our 5th and 6th class that we 'Do our talking as we're walking.' We also have plenty of space to play playground games or train in soccer and GAA during lunchtimes.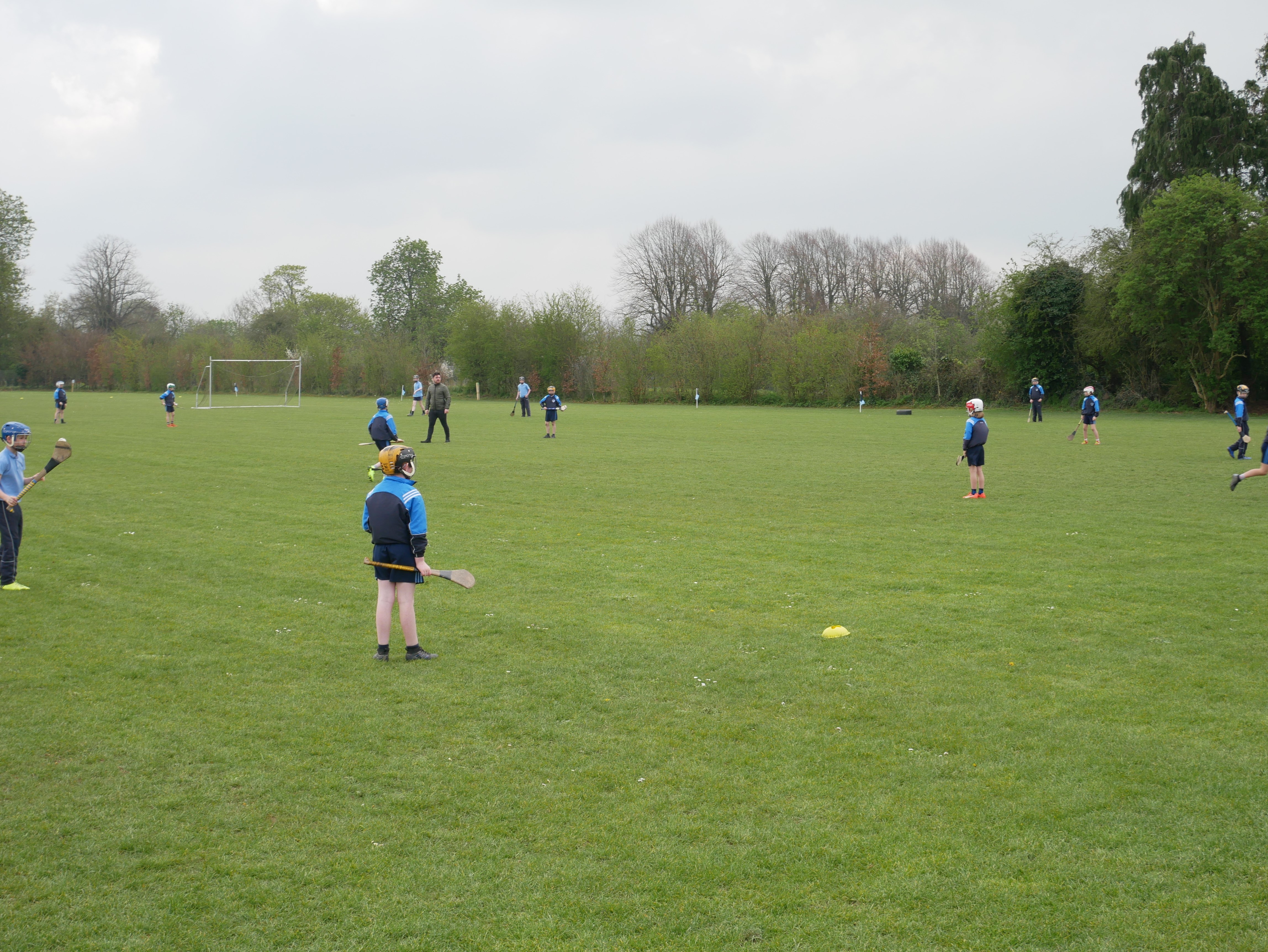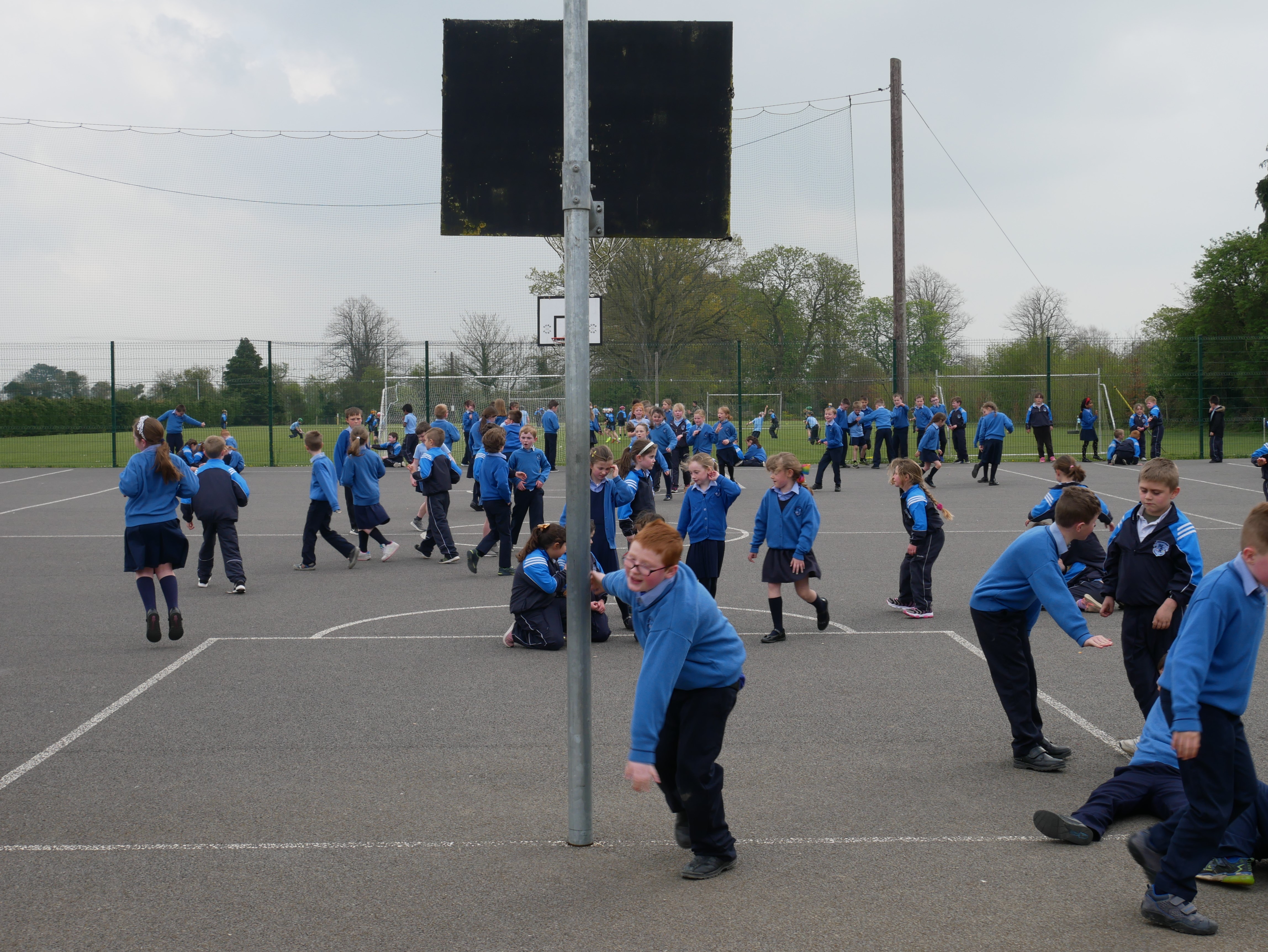 *************************
We love to keep active even when we are lining up after break times. For the month of March, we had Active Lines after little break which were led by our Active School Committee!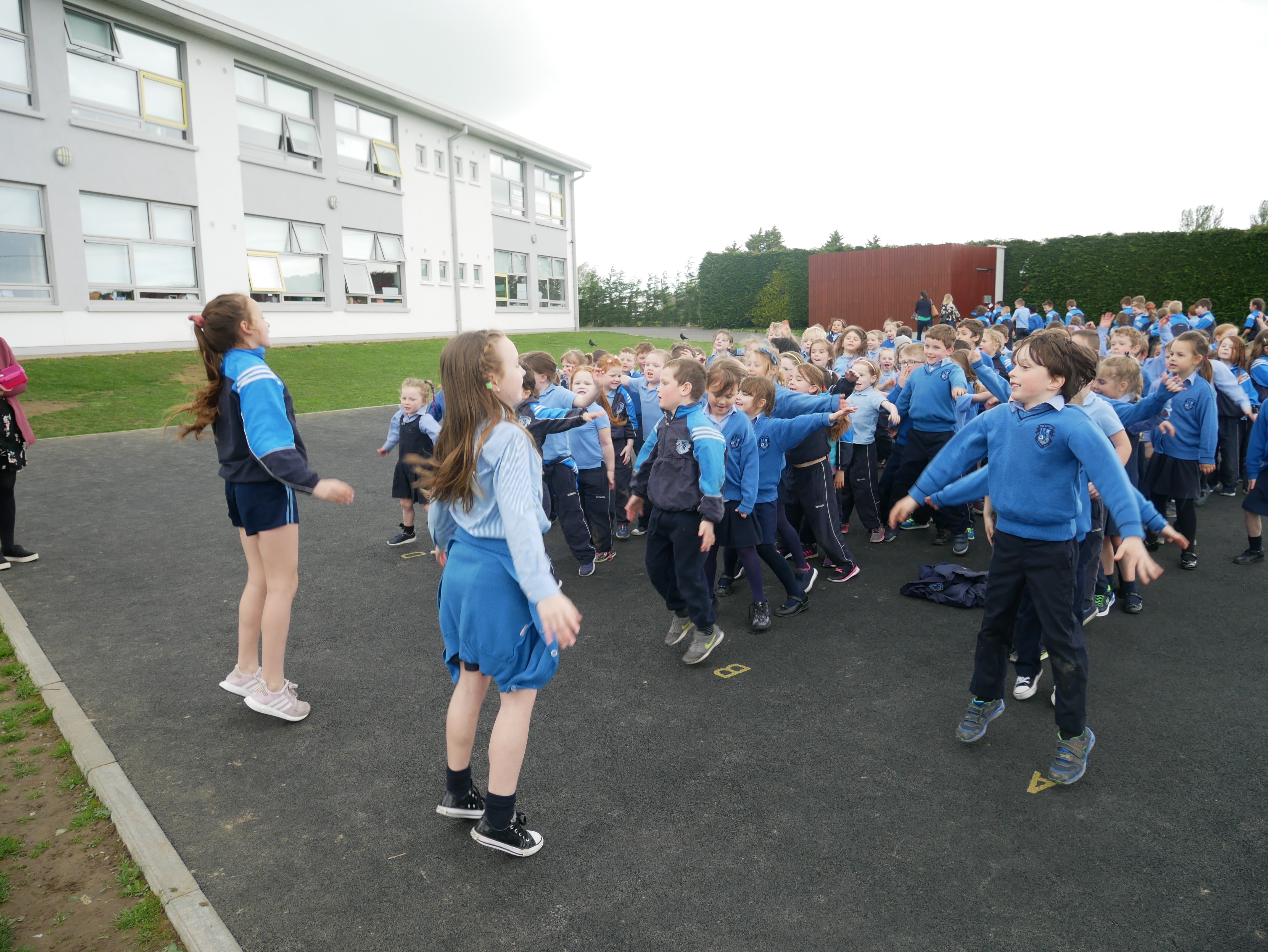 *************************
We launched our Active Walkway in January and every day for 4 weeks, we set a whole school challenge of running across Europe. The children of Bunscoil McAuley Rice ran an impressive 10,335 km over the four weeks. We started our run in Dublin and ended up in Romania after visiting 9 different countries along the way. The children really enjoyed the challenge and continue to use our walkway throughout the year.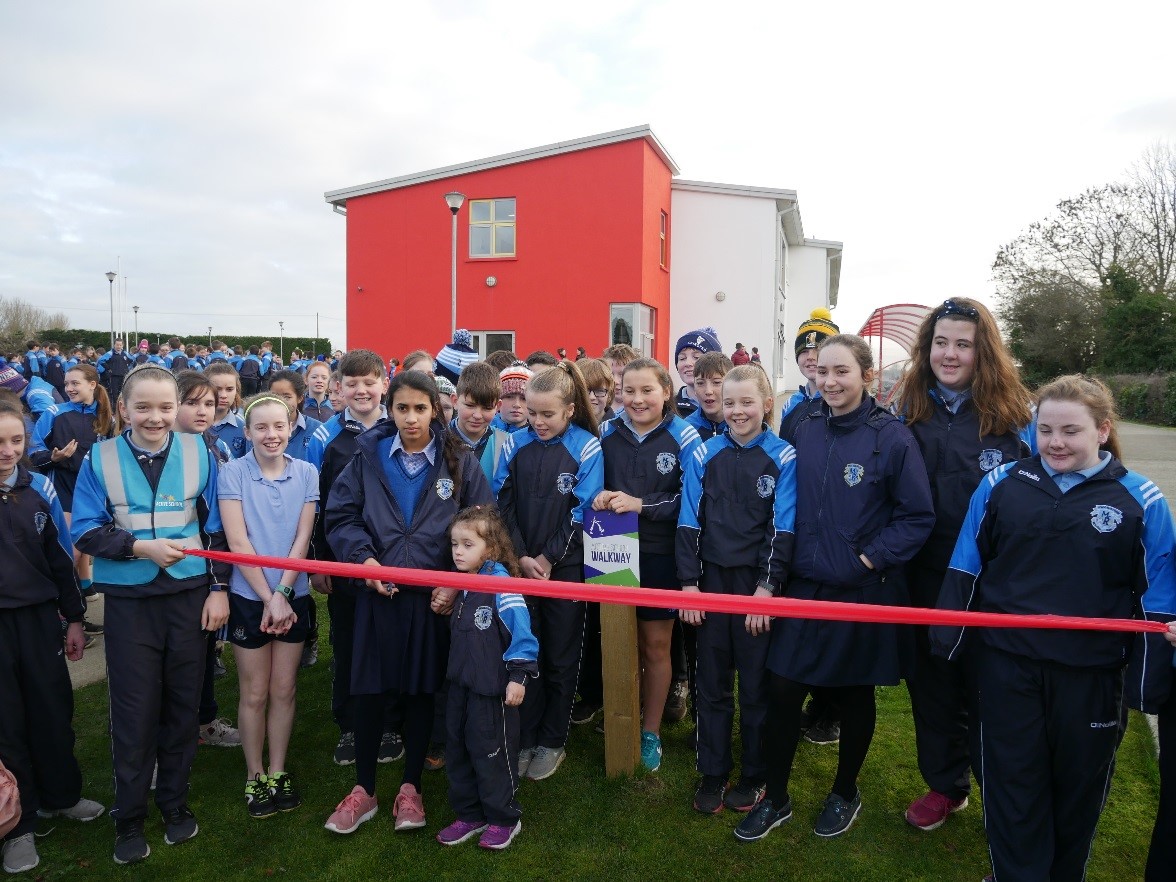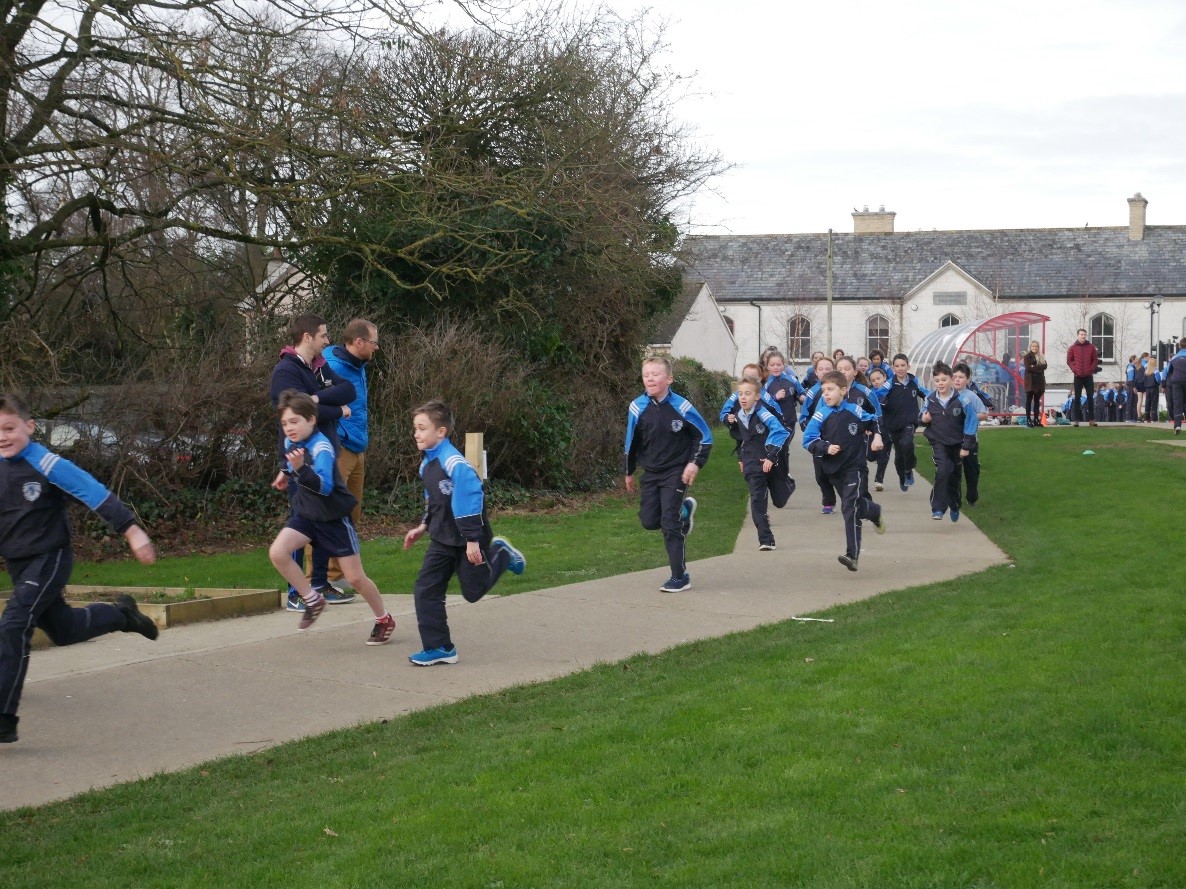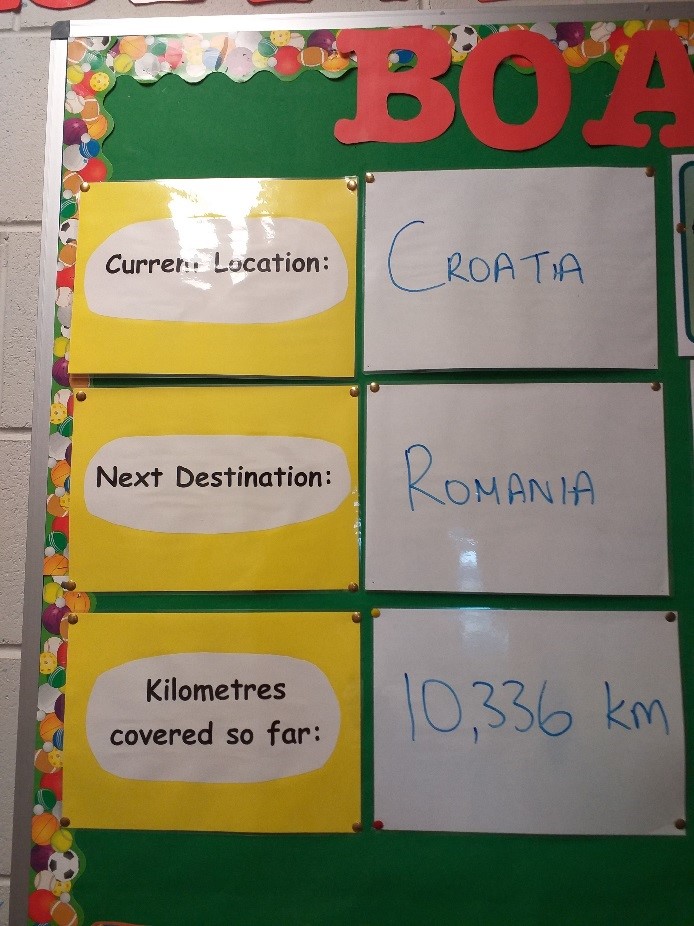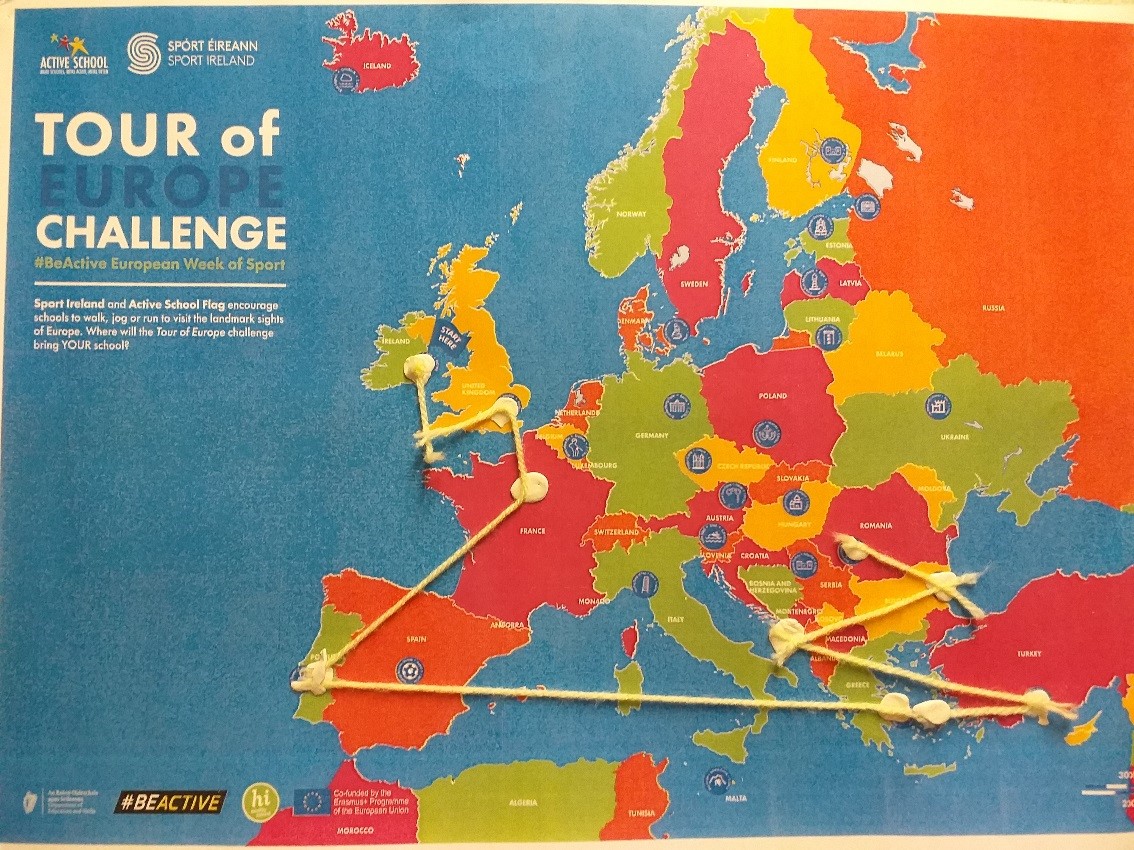 *************************
All of our teachers make sure that we keep active during school every day- even during rainy days! We love to use Go Noodle, HSE Get Active in the Classroom and The Body Coach exercise videos.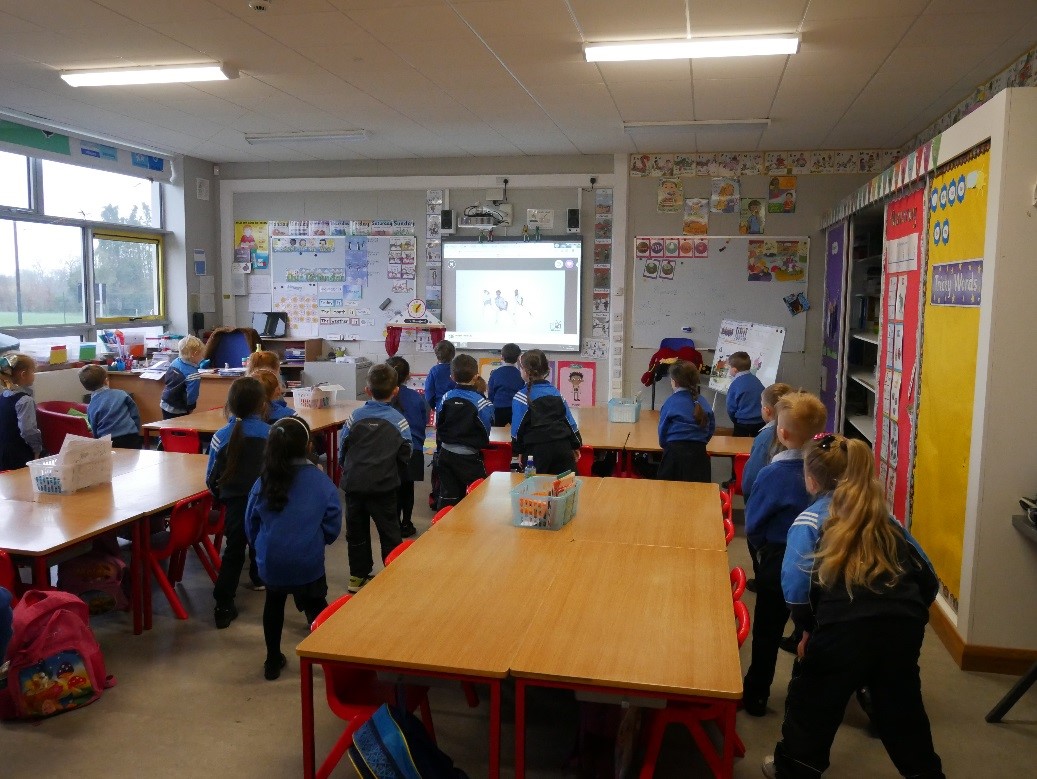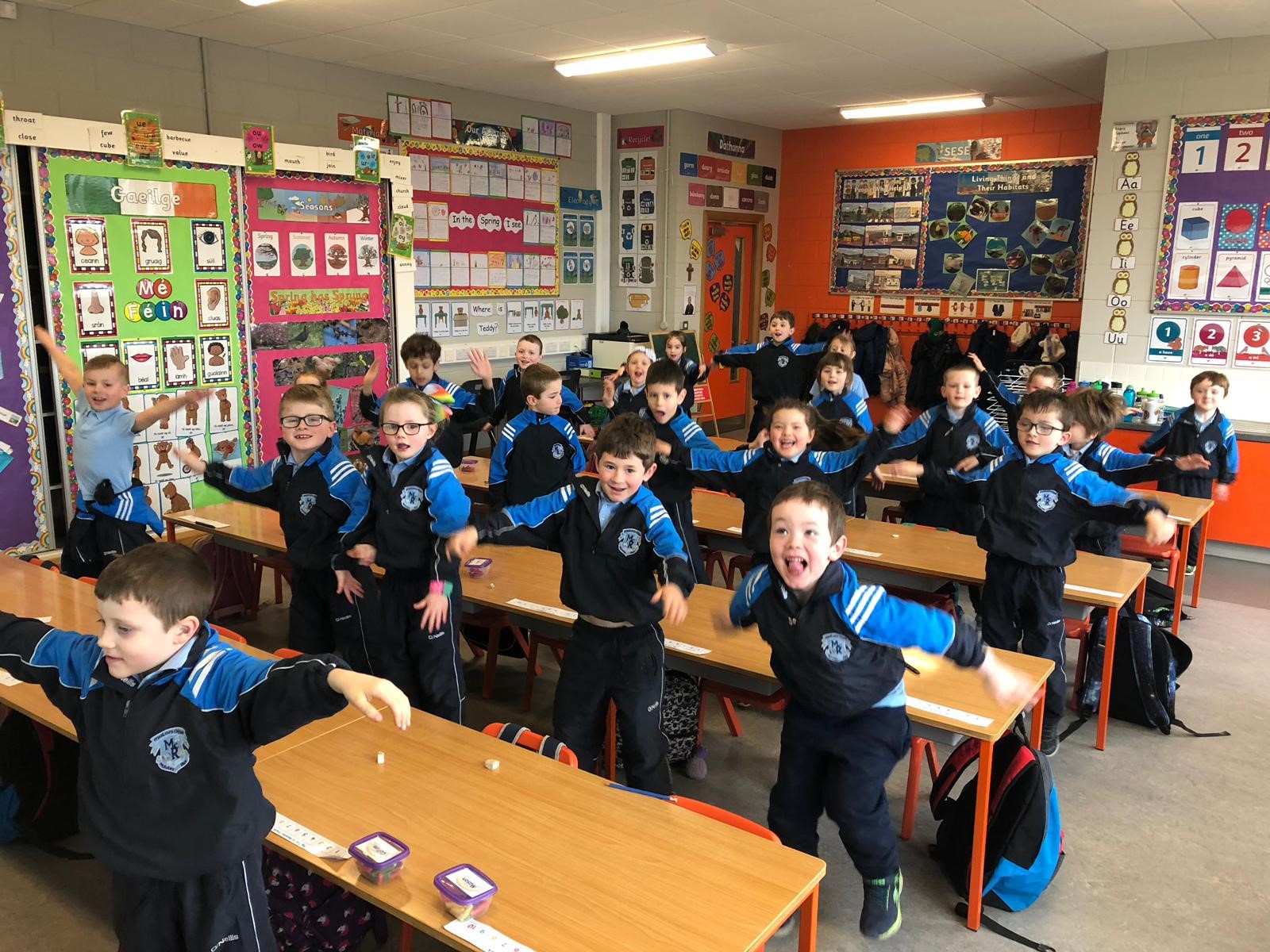 *************************
In Autumn, the Junior Infants went for a nature walk around the local park to find signs of Autumn.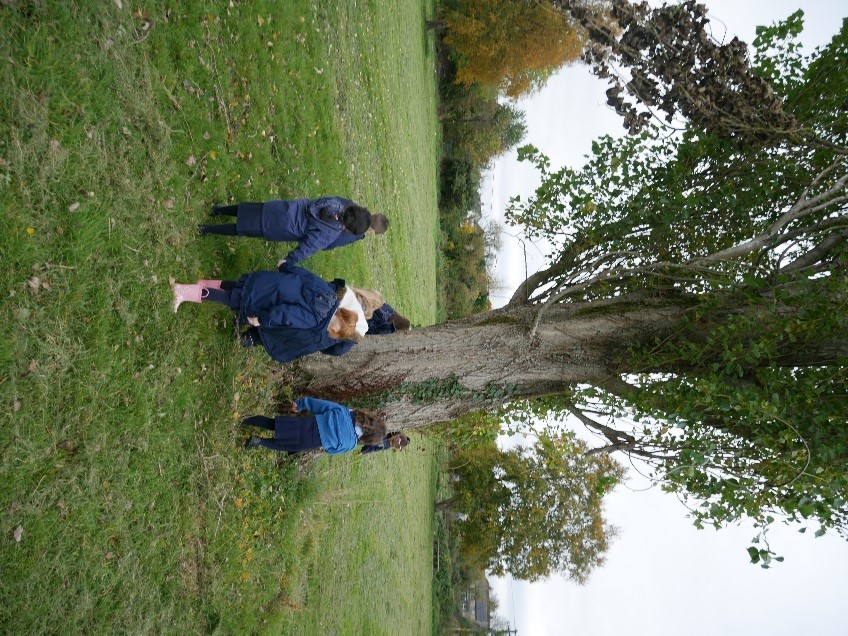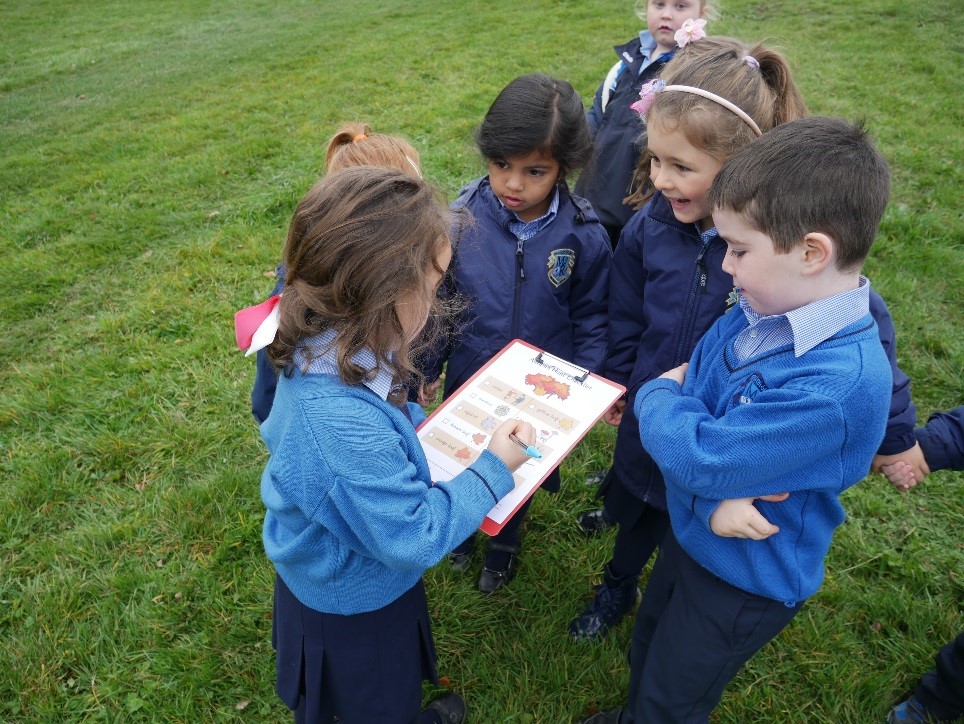 In preparation for St Patricks day, the Junior to 2nd Classes participated in Irish dancing lessons with our very own Mrs Grace. We also had a green day and all classes participated in a ceolchoirm where there was plenty of dancing and singing!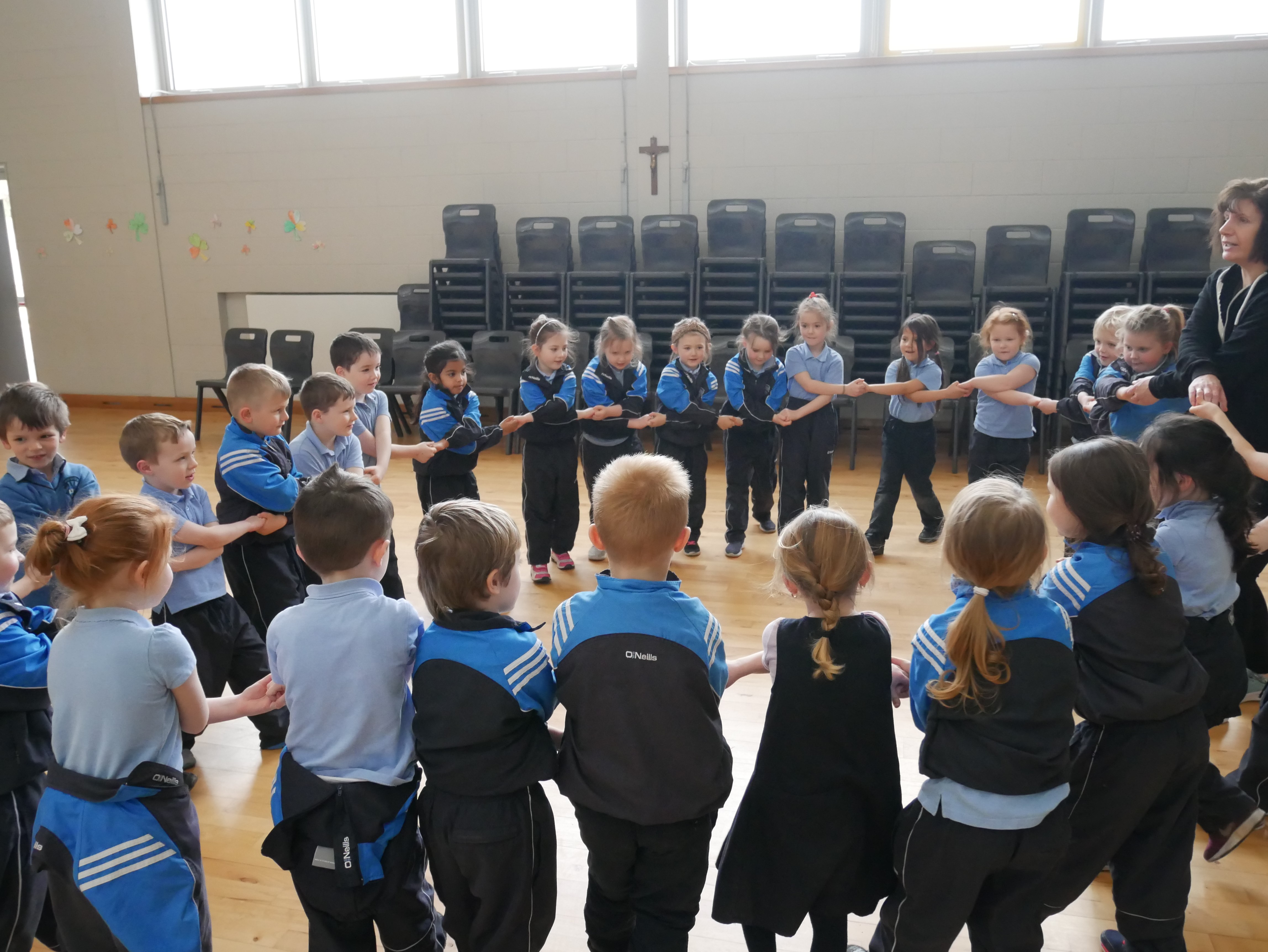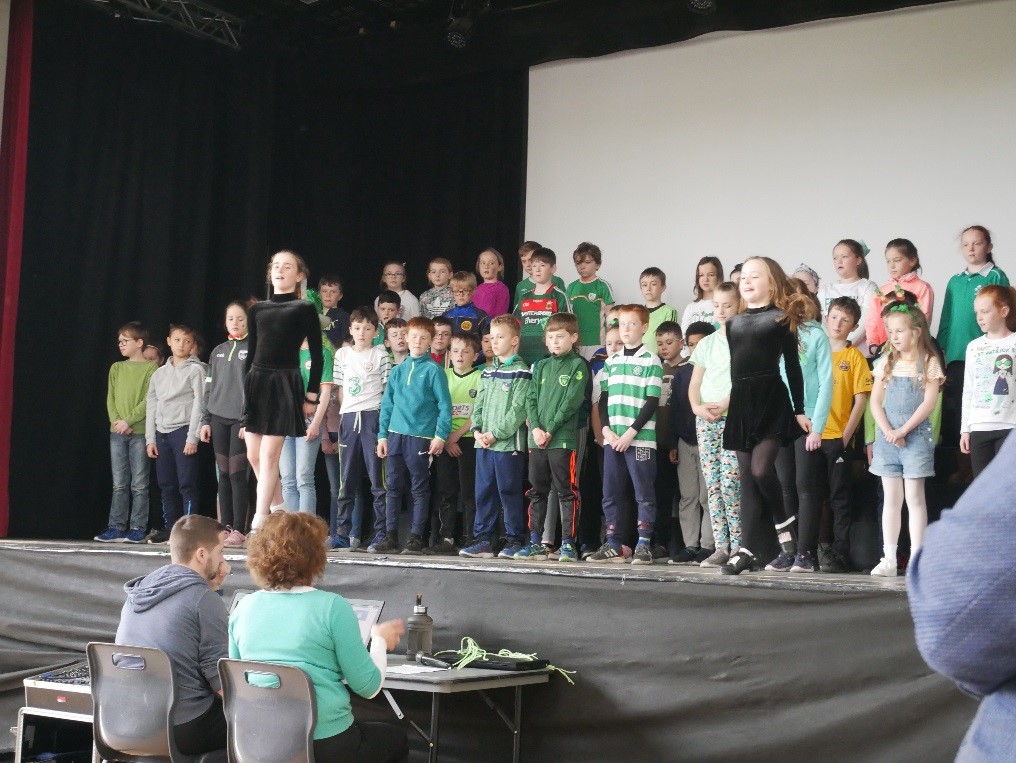 The infant classes, with the help of the 6th class, went on an Easter Egg hunt around the school, they had lots of fun exploring and scavenging for delicious chocolate eggs!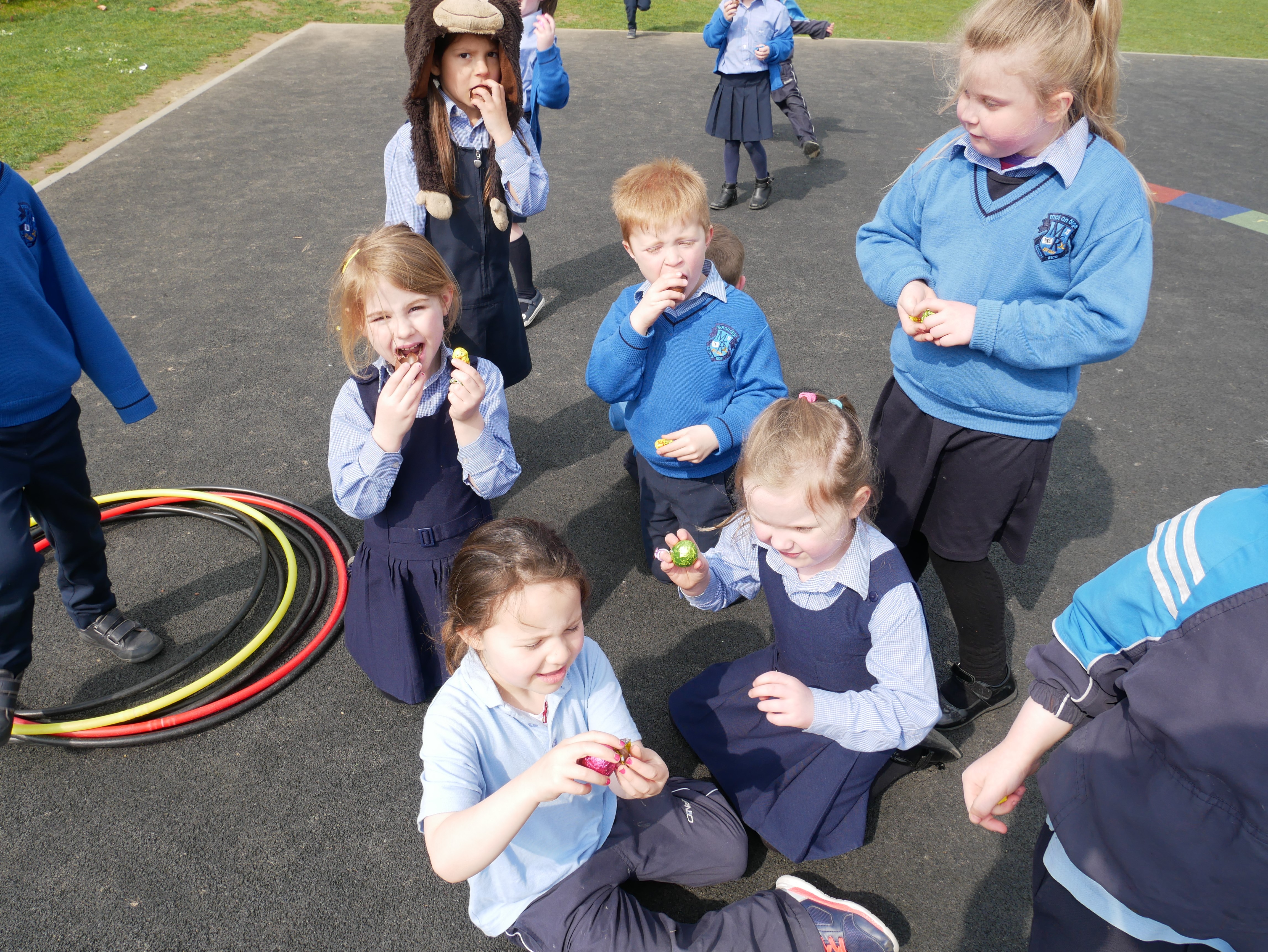 A lot of classes took up exercise as part of their Lenten promise this year. We loved the idea of taking up something good this year!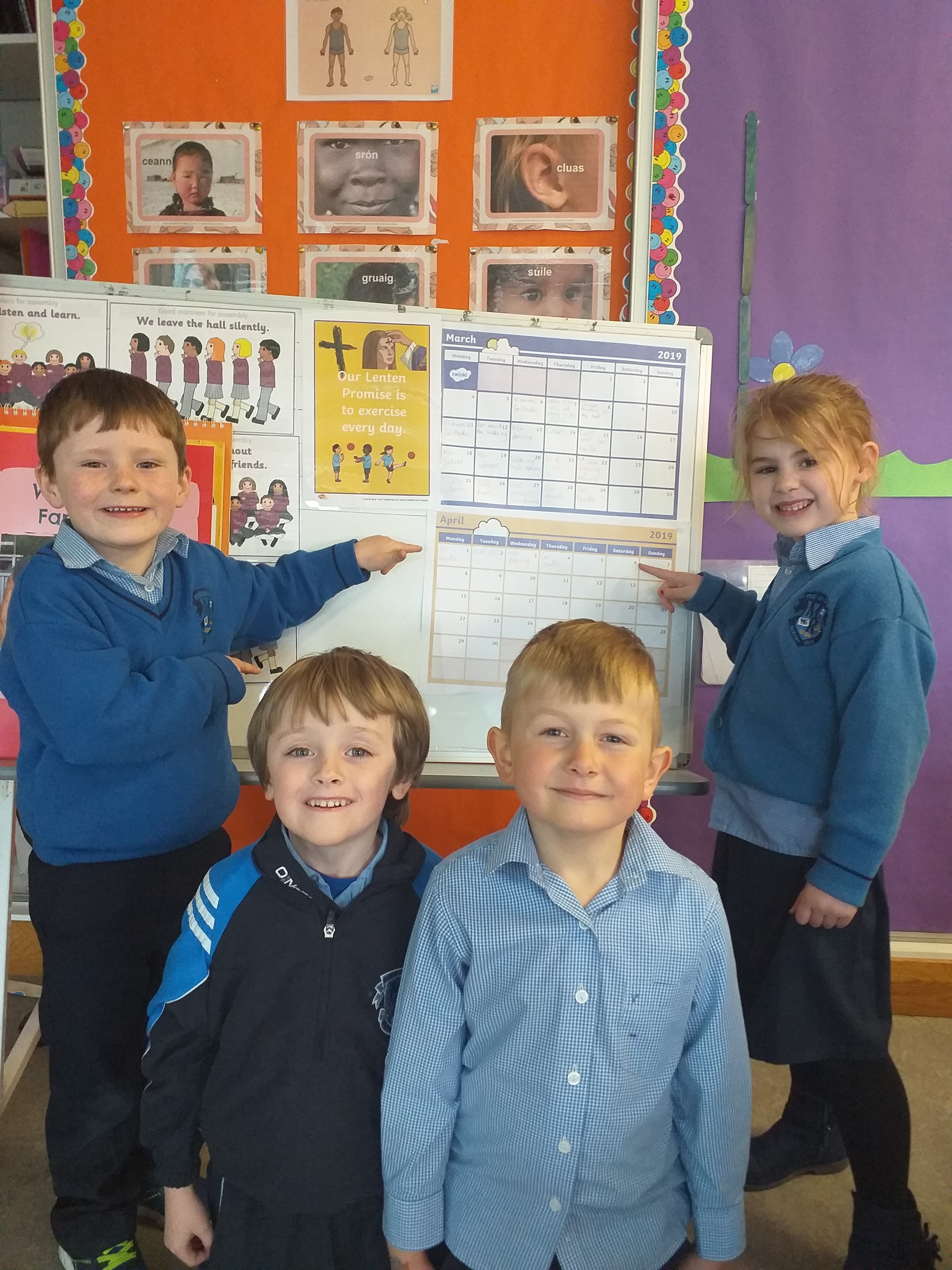 *************************
Each week, we have a line-up award where the classes can earn points for being the quietest and straightest line after yard time. At the end of the week, the 4 classes with the highest points gets 15 minutes extra yard time on a Friday!
*************************
Each term, some classes in the school challenged themselves by trying to get in 60 minutes of activity a day for one week. It made everyone more aware of how we can get in those important 60 minutes of activity each day!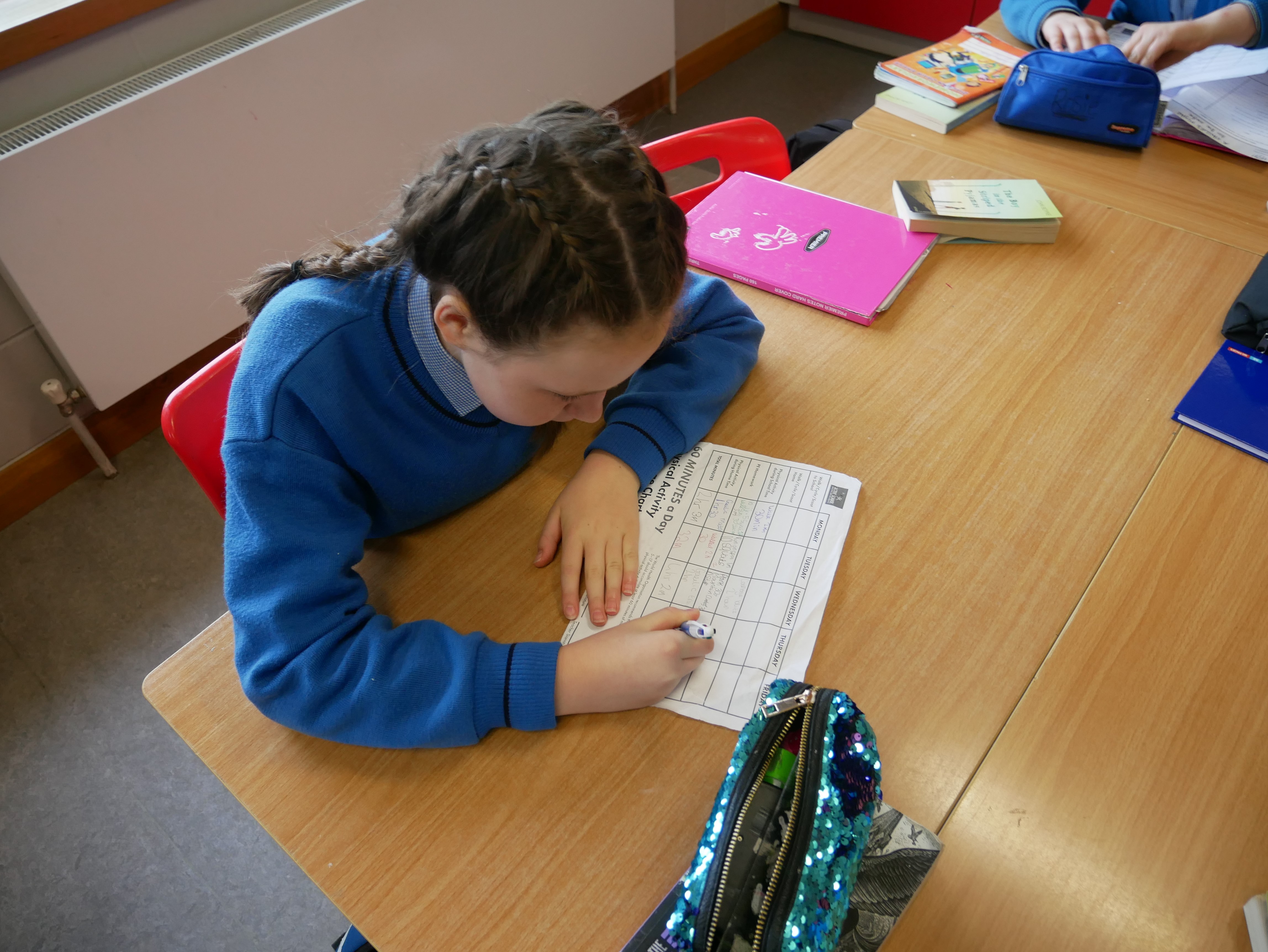 *************************
Partnerships
Congratulations to Nyah Vaughan who was the winner of our Active School Slogan. We think that this slogan really captures what the Active Flag means to us!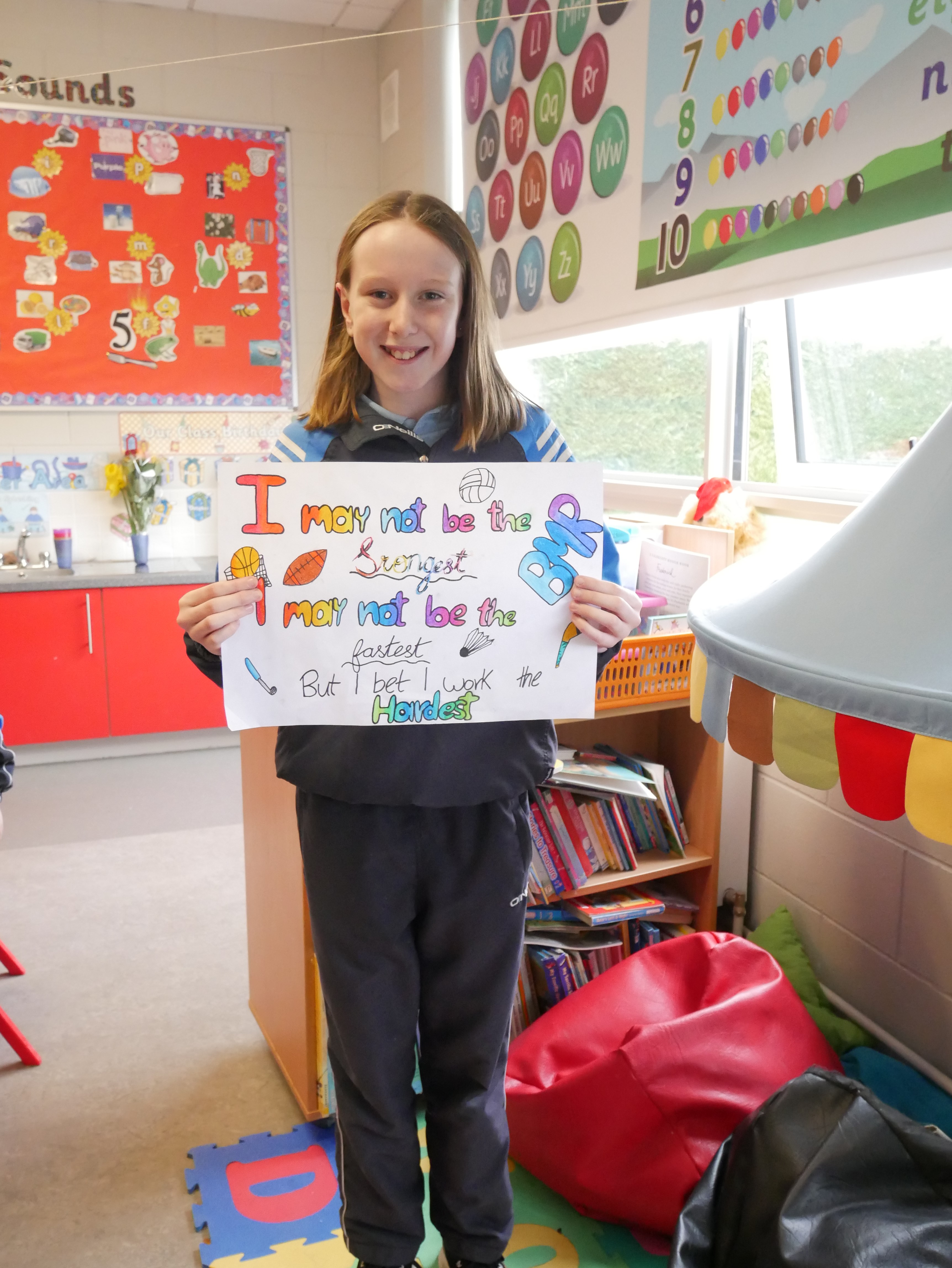 *************************
We have a democratically elected Active School Committee. They have helped us to think up of ways we can be more active in the school and they keep all of our classes updated on our latest Active School flag initiative.
*************************
The Active School Committee conducted a survey in the upstairs classrooms to find out the different clubs that we are involved in outside of school. Mr Moloney also regularly sends out emails to parents informing them of local clubs that their children can get involved in.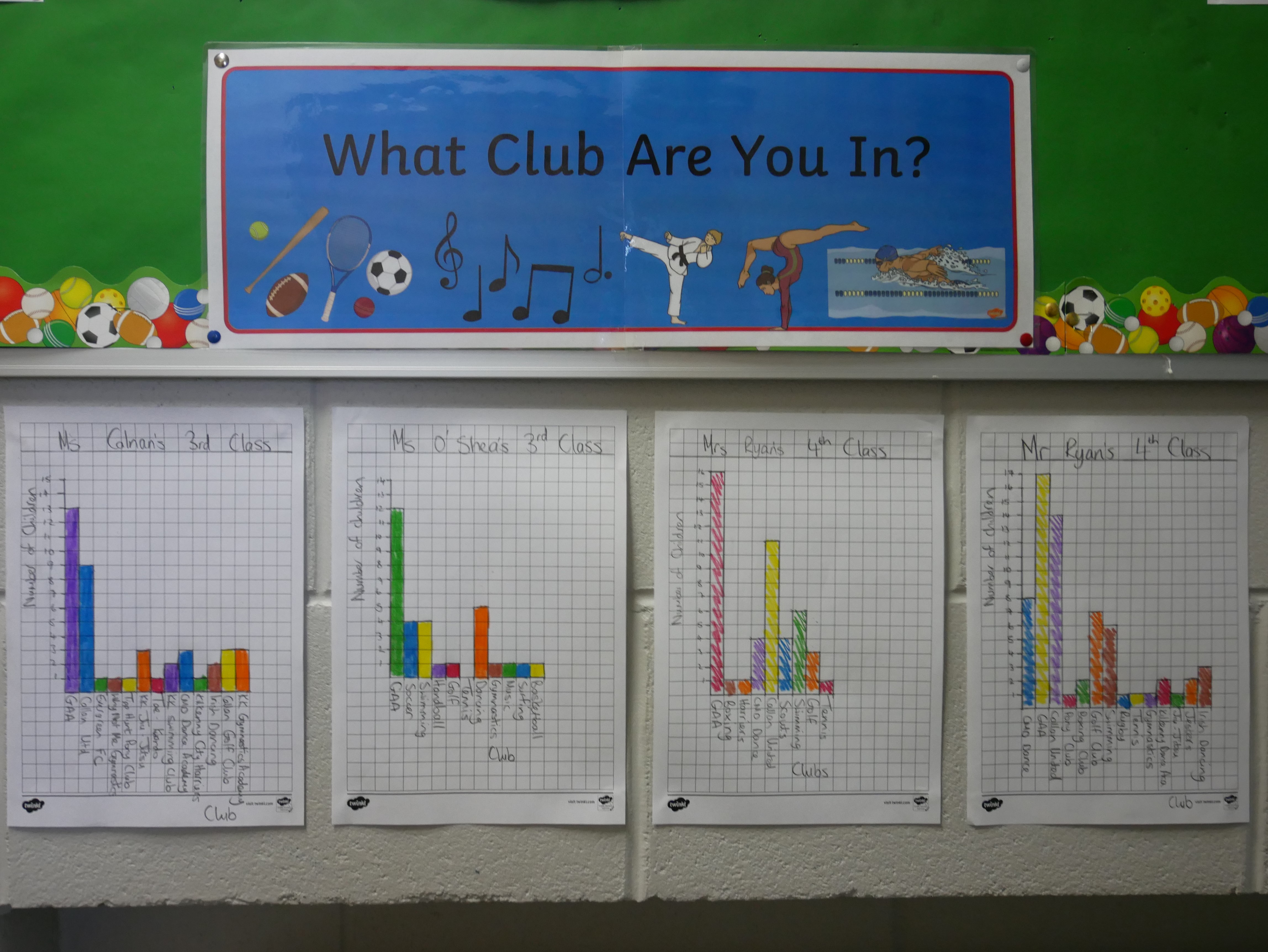 *************************
We love to see the achievements of our children in the school. We like to showcase their brilliant achievements on our WOW Wall.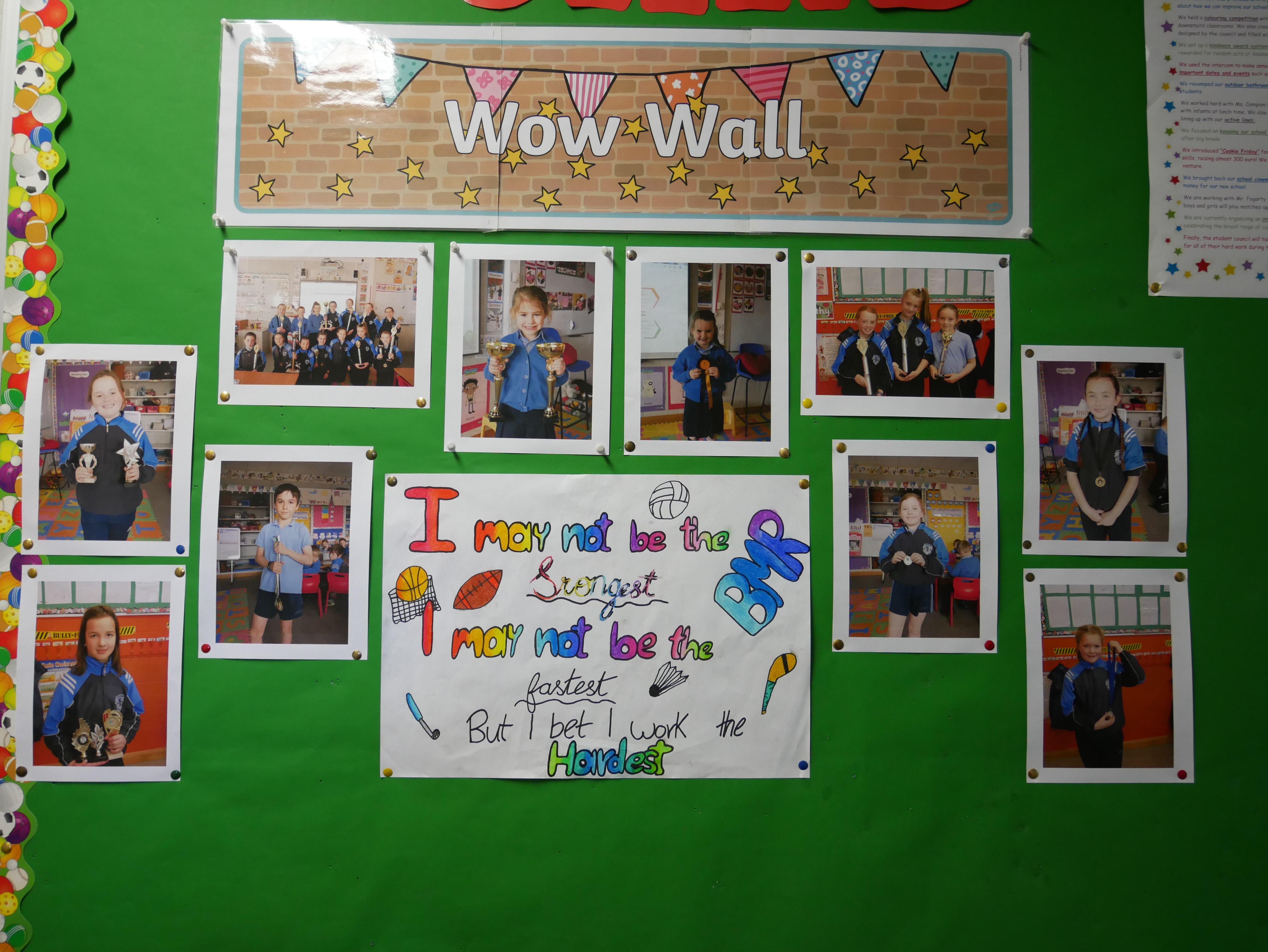 *************************
Over the year, we have had a lot of local sports initiatives come in to promote exercise;
KRSP came into the school for 6 weeks to improve our Fundamental Movement Skills.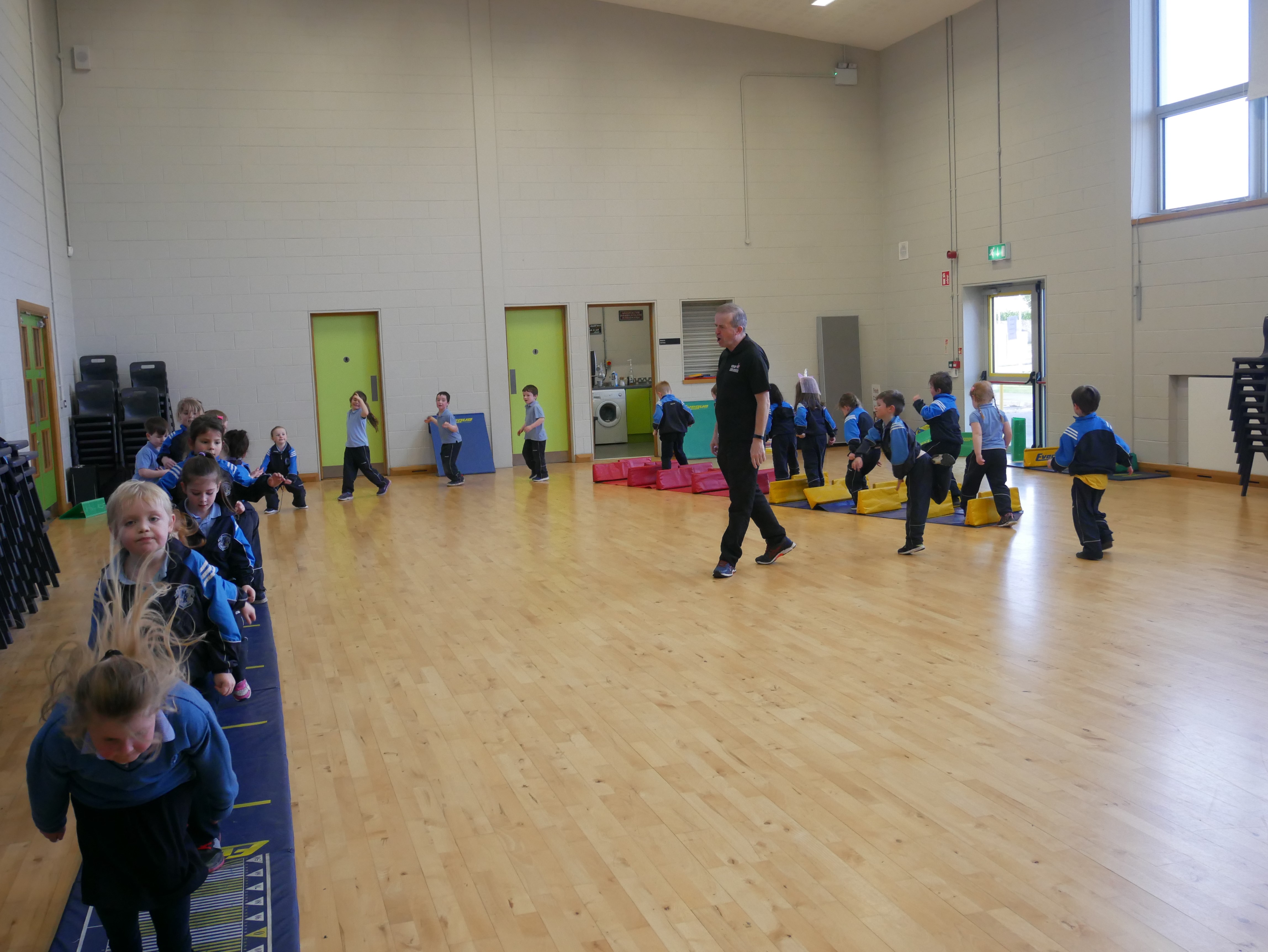 The 6th class students learned all about cycling safely on the roads.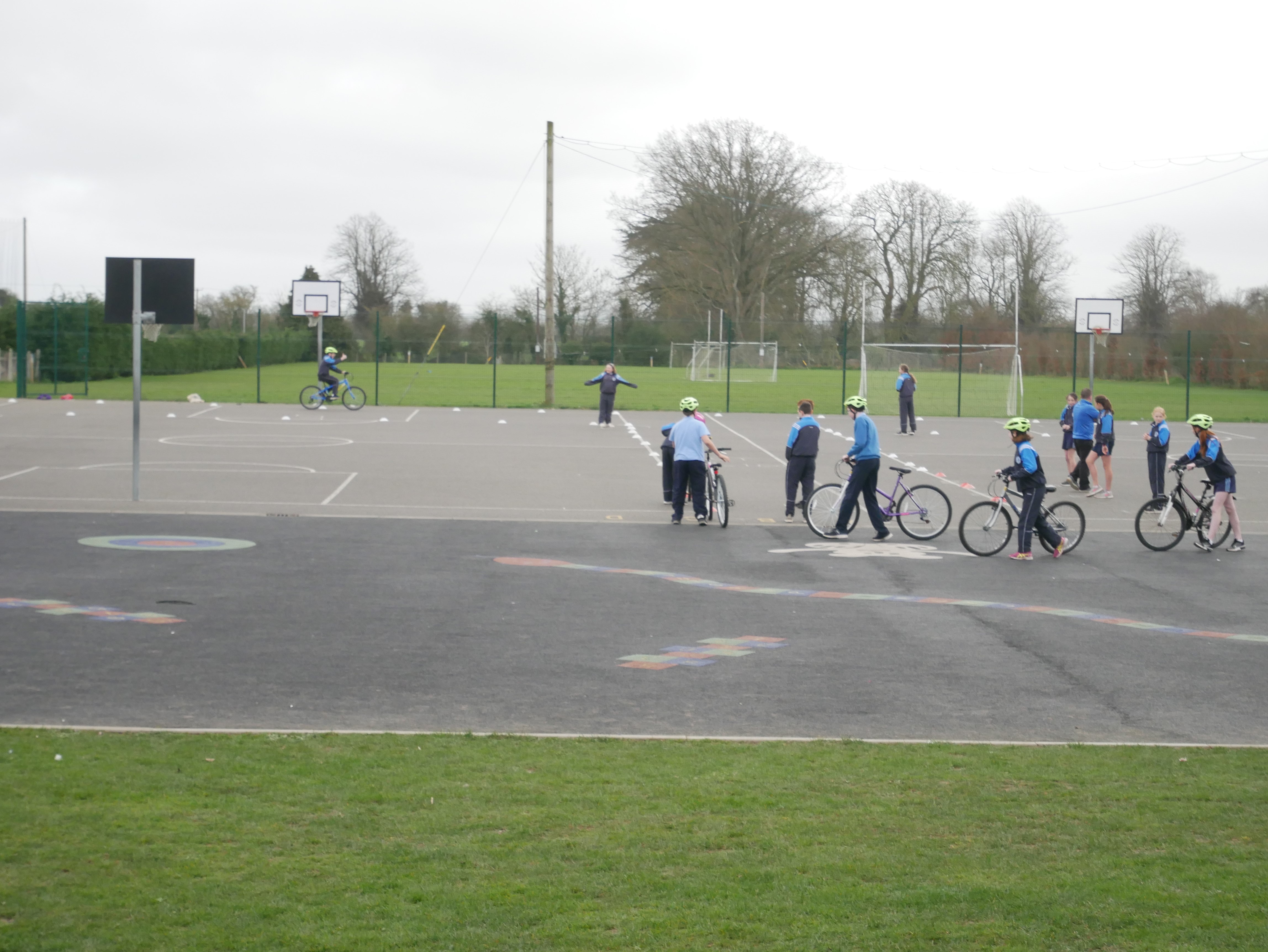 One of our parents, Jane Phelan, entered a competition for Fyffe's to come and do a fitness class with us. The children loved learning how to move like animals.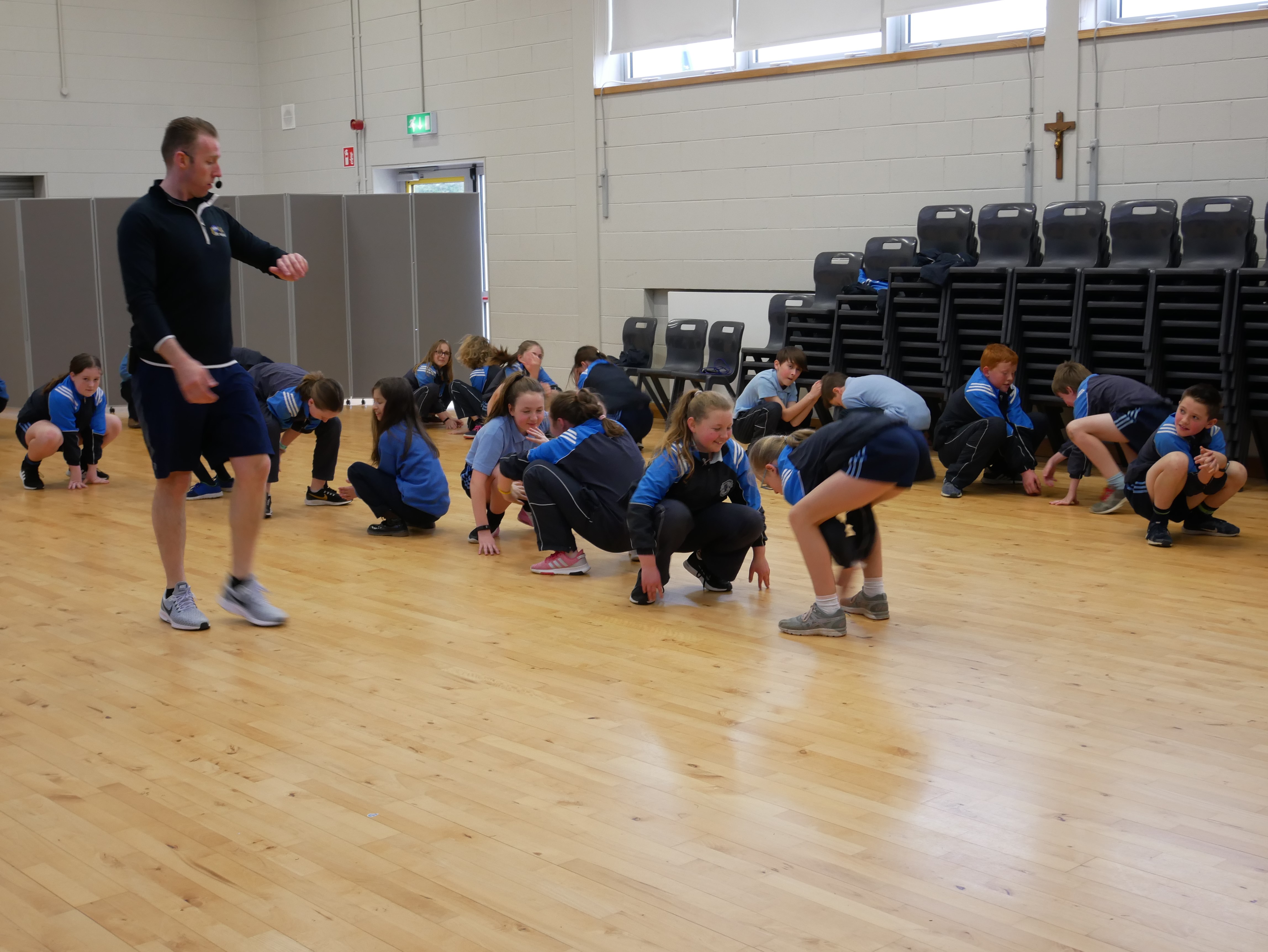 Our school is also going for the GAA 5* award this year. Children from Junior Infants to 6th all loved participating.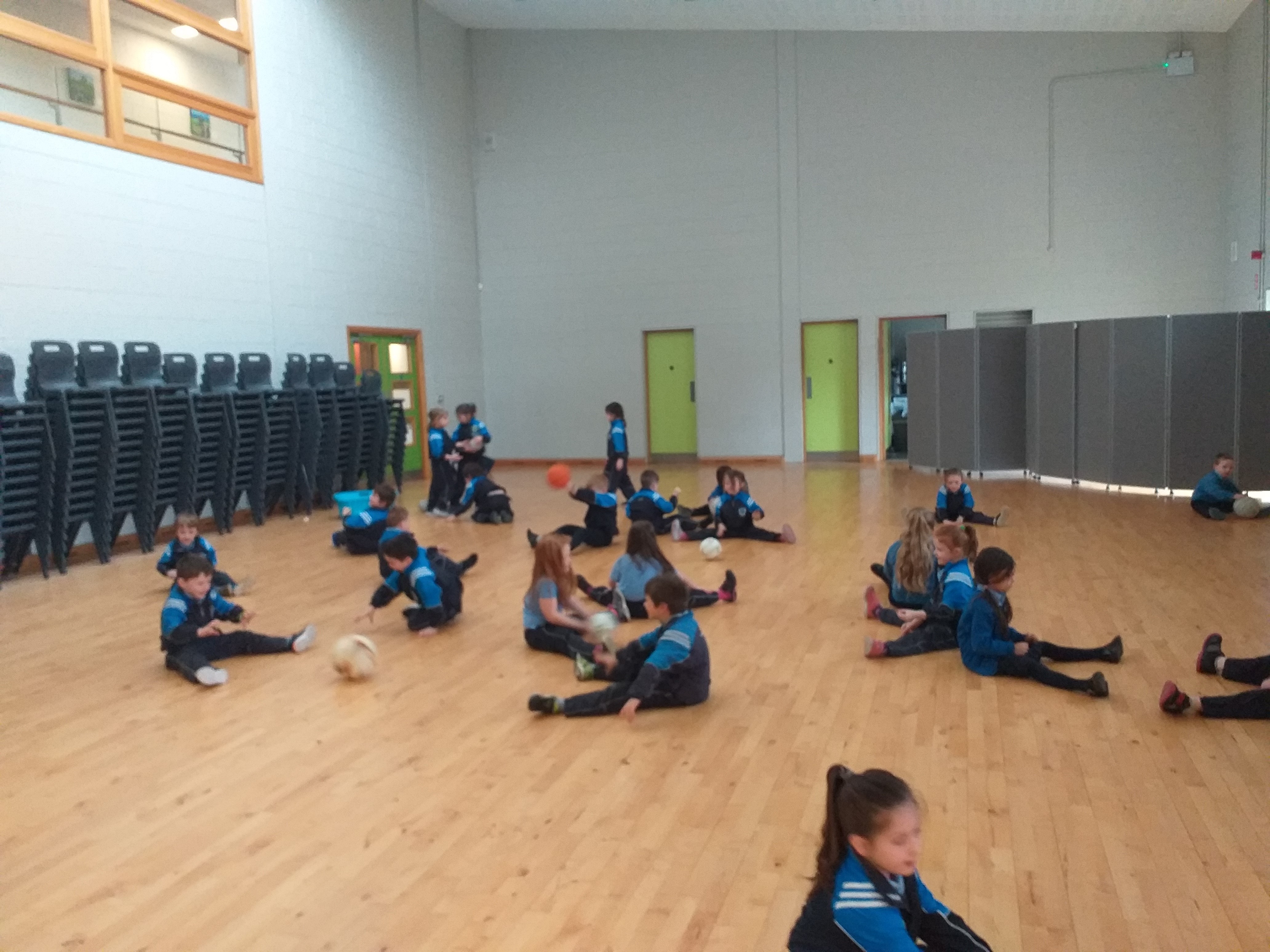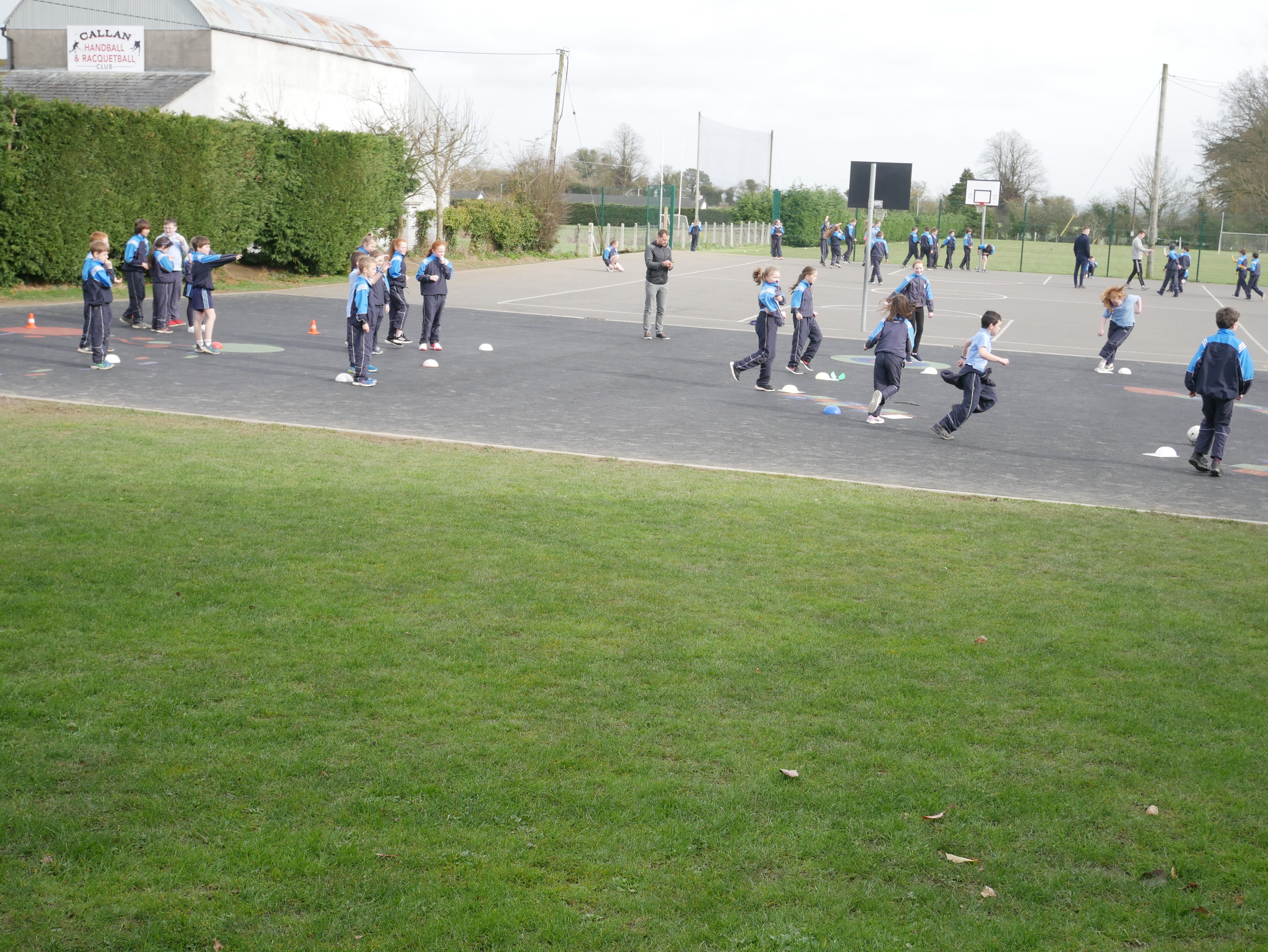 The FAI trained our children in soccer on Friday afternoons in order to promote inclusiveness.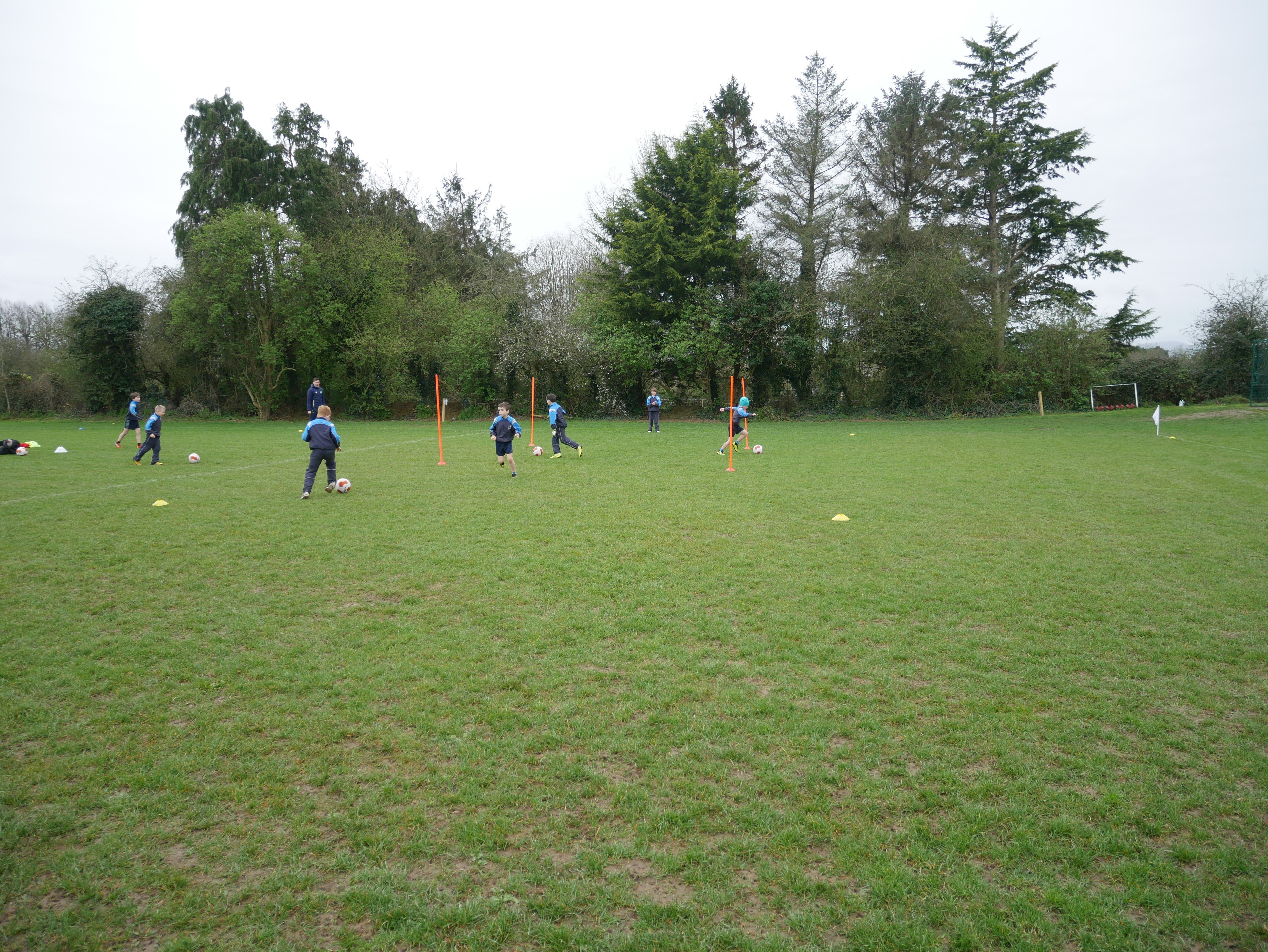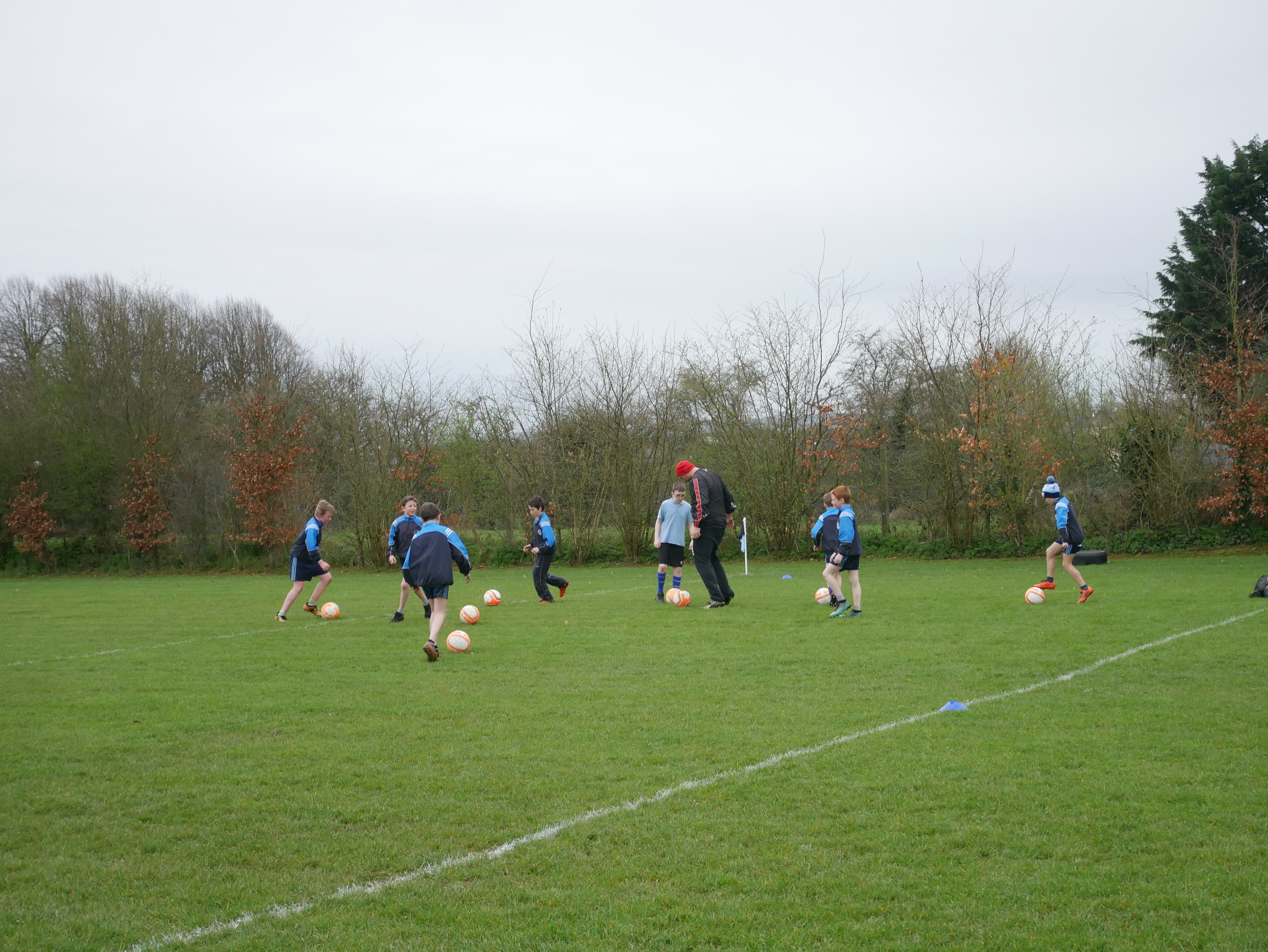 *************************
Active School Week
Since we first got our Active Flag in 2017, we have held our Active School week on the second last week of June. This year, our Active School Week will take place from 17th June until 21st June. We can't wait for a week of wearing our school tracksuit and getting active homework each evening.
For the Monday and Tuesday of each active week, we always have our sports day for the junior classes and senior classes. The 6th class love to help run the junior sports day! Our sports day are always inclusive, with all of our children getting to participate.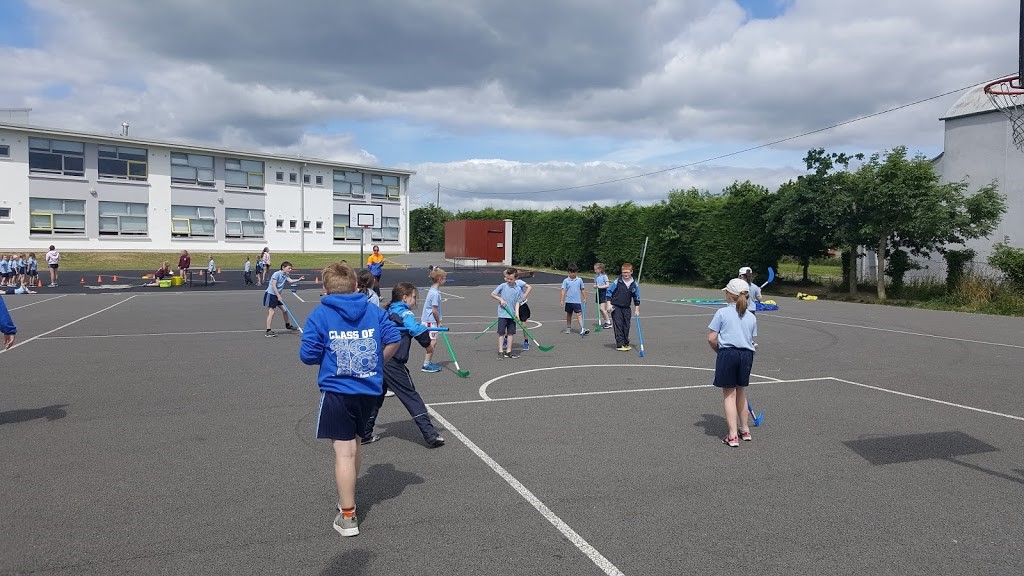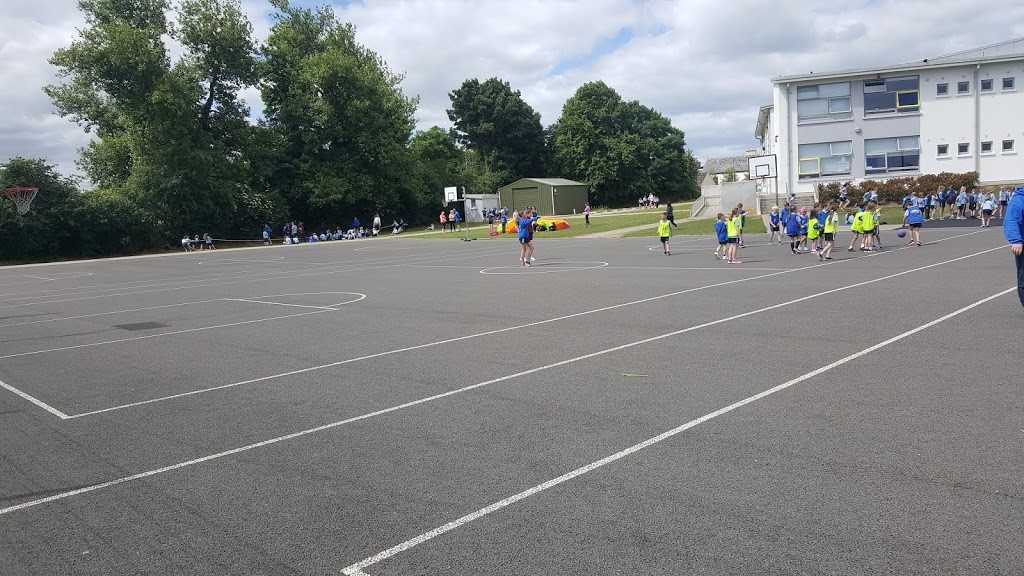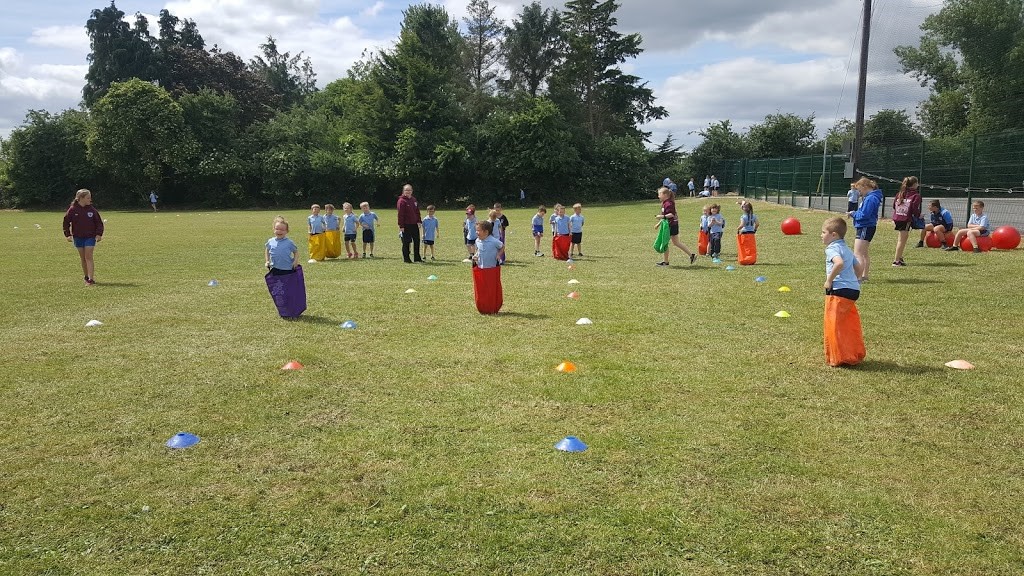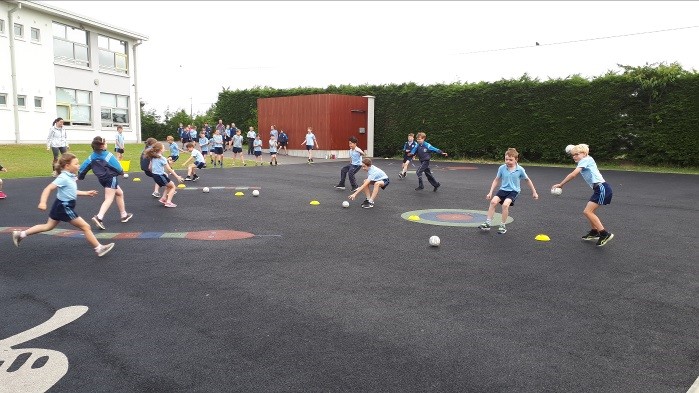 *************************
On the Wednesday of Active School Week, we organise a whole school fun event called- Callan's Fittest Class. Each class goes head to head in an obstacle course to find the fittest class! We also have an inaugural Student vs Teachers match on the Friday to finish off our Active Week. Our 6th class students love to try and beat our teachers in a soccer game. The teachers are yet to be beaten!!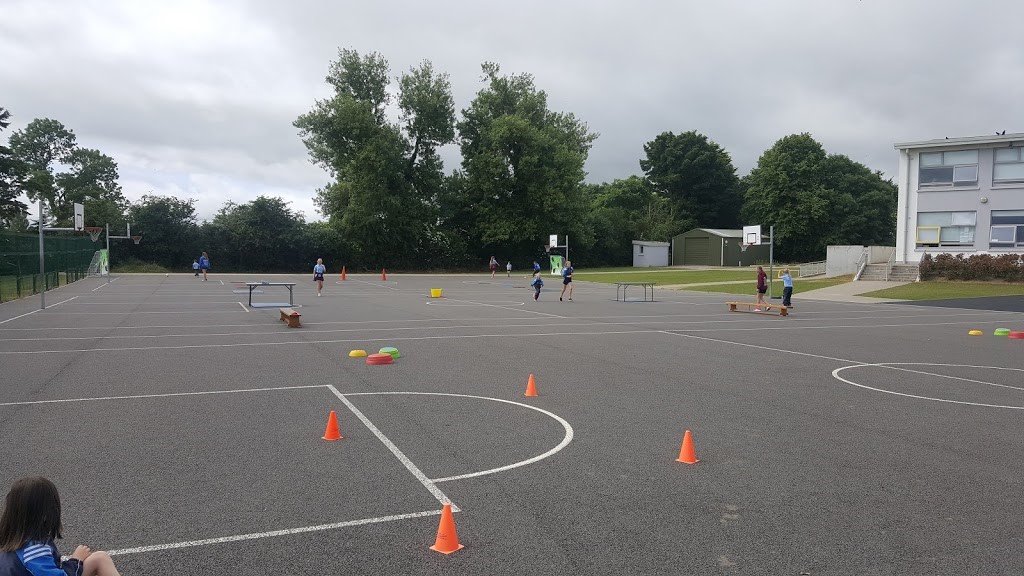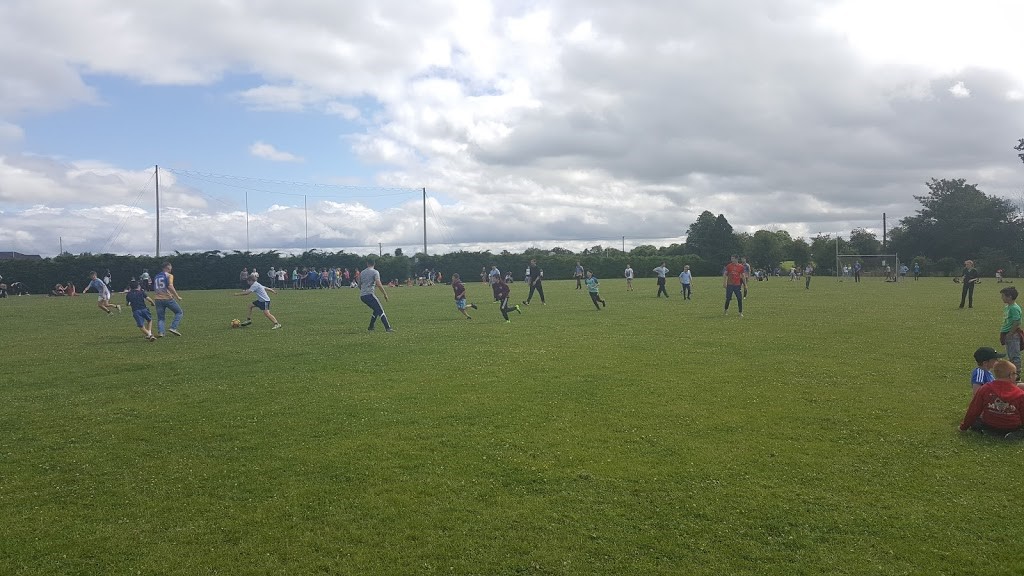 *************************
Our school was very fortunate to have parents come to the school to showcase the different sports on offer in the locality. Thomas Dermody, a parent in the school, came in to carry out a variety of hurling skills. Dom Griffin set out some drills and games that all children could participate in for soccer. Jay Edwards also brought down all children from Junior Infants to Second Class to participate in a series of outdoor games in the local park. The teachers and children really appreciate the input of all the parents involved in making our Active School Week a great success!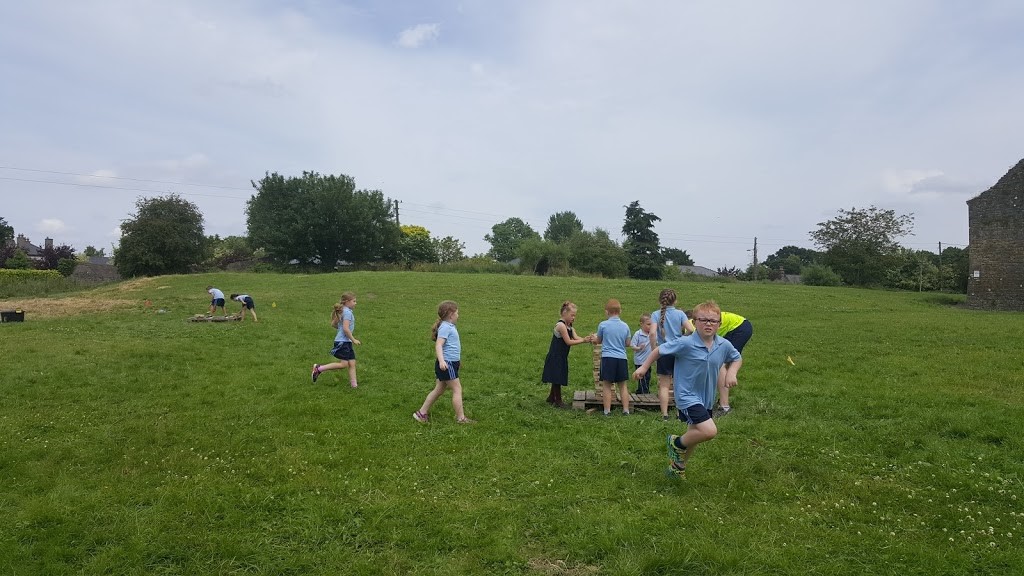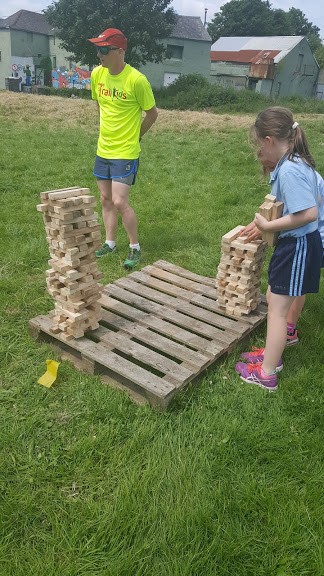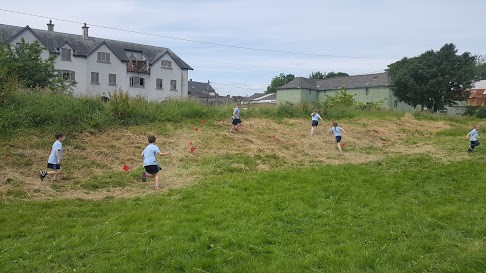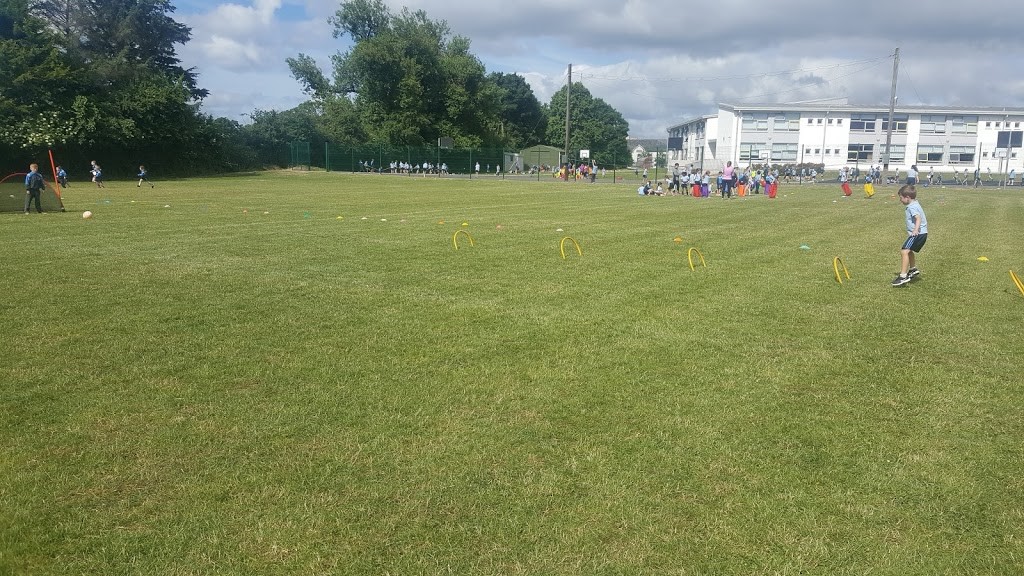 *************************
We were very fortunate to try out a new sport, Stick Jumping, as part of our Active School Week. The KRSP organised for Steve Jones, coach to former Olympic Gold Medalist, Stacey Dragila, USA and Eamonn Flanagan, National Pole Vault Coach, Ireland to come to our school to teach us the basics in Pole Vaulting.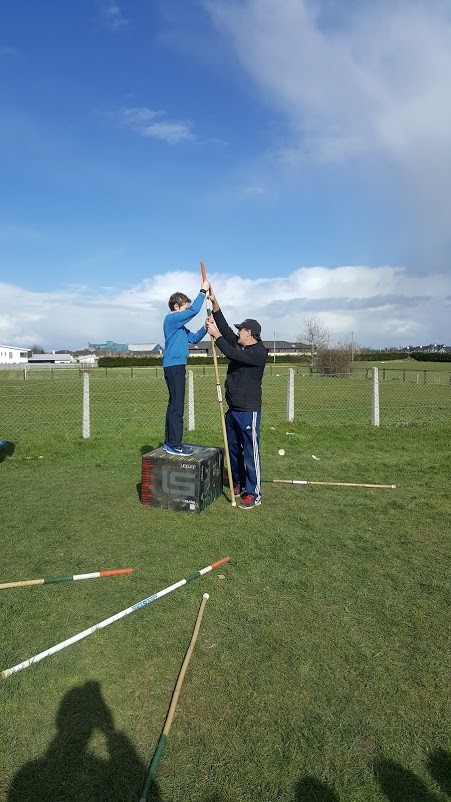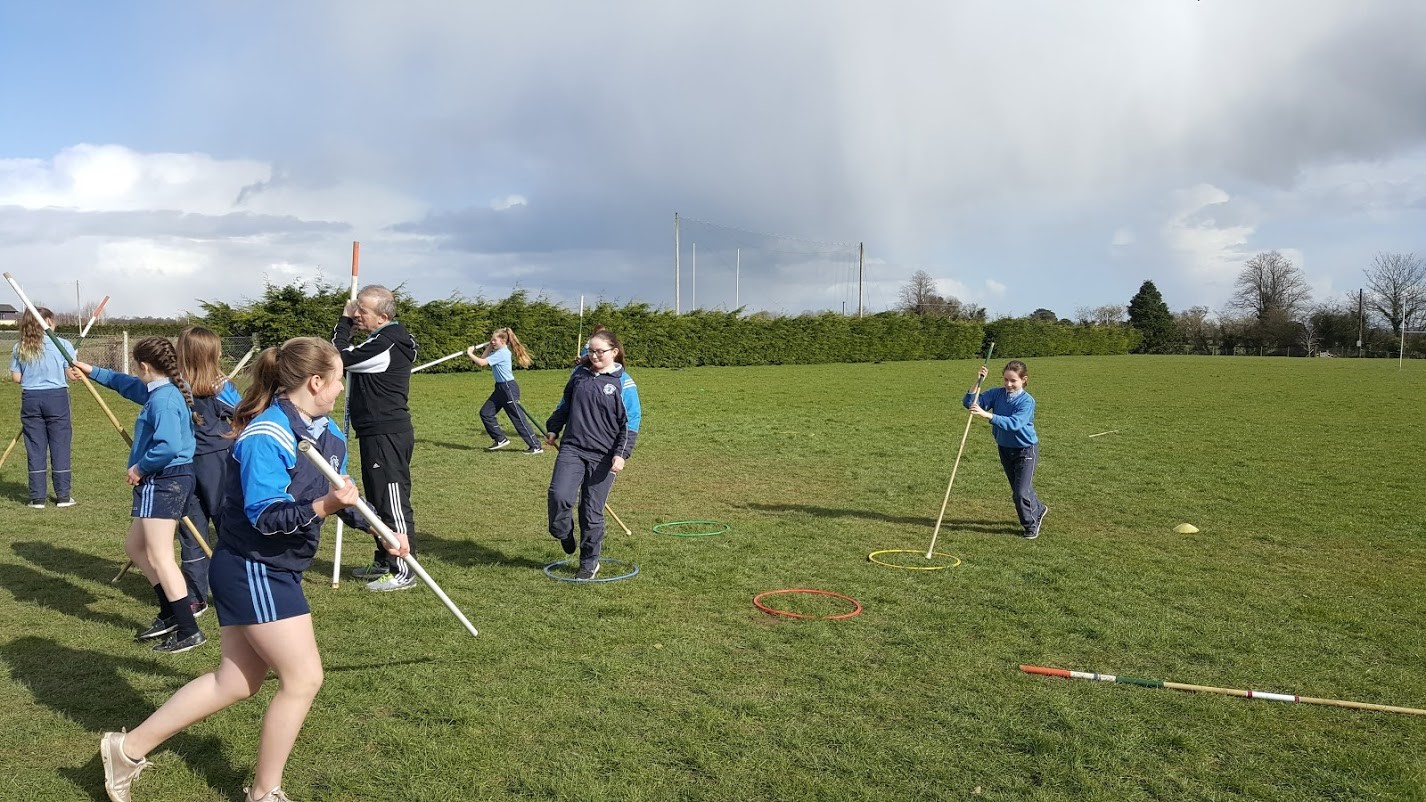 *************************
Each teacher in our school uses Get Active in the Classroom. Throughout our Active School's week, we made sure to use it each day when we weren't doing activities out in the yard. Below is a picture of our infant classes learning all about the different ainmhithe in the zoo.